State of the program and updates
Landscape Architecture Program Leader Karen Russcher wrote an update about the program, including recent student awards.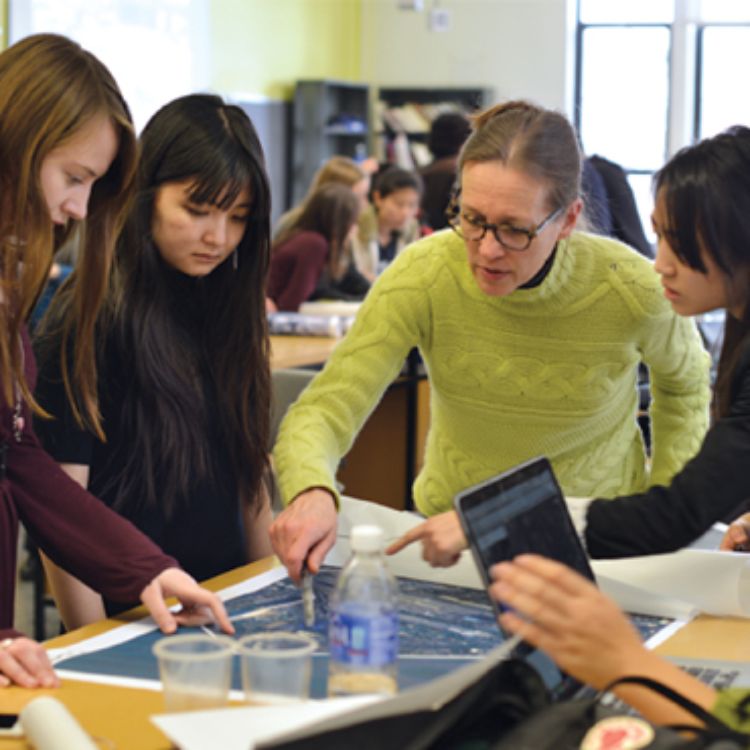 I have the great opportunity as interim program leader to present the state of Michigan State University's Landscape Architecture Program, as well as my new role, hopes and aspirations, opportunities, and my heart-felt feelings about what the LA program and our profession means to me.
We have had quite a few changes recently. I came to MSU in 2013 with the retirement of Duane Mezga and Warren Rauhe. The LA department was making changes to accommodate the two class years known as the "bubble group" (two classes that were merged together) that were nearing BLA graduation or entering the MED program. We were also juggling studio spaces to accommodate 4 class years in a new facility.
We have transitioned with new faculty, curriculum, and spaces, and we are settling in with established practices, values, and organization. I am proud to say that the students graduating this year were my first class that I taught in the fall of 2013. I have had them in each year's design, planning and construction classes. They are a great group, and I'm glad that they did such a wonderful job learning and growing each year. I was able to track their growth in skills and cognition, and to see them bridge the varied knowledge across the landscape architecture curriculum.
I will continue to be an advocate and conduit for the students to the LA program and faculty. I want to make the process of applying to upper division simple, direct, and accessible. I also want the available scholarships to be widely known, and have asked that the dates for application be sent out much earlier and with more reminders.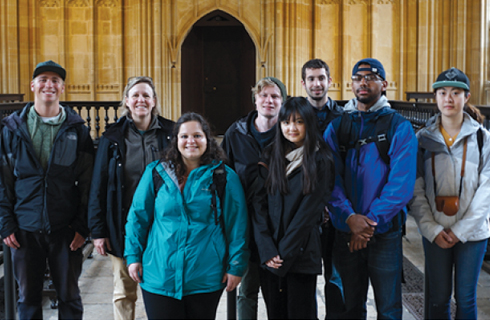 There are so many activities during the semesters. Since I can see the student stress level on a daily basis, I want to help minimize that stress where possible. For example, coordination among all the professors could help lighten the work load during the week of the career fair and vertical studio in the spring semester.
Another concern is the work load for the 3rd year students (the most rigorous year of study) just before they go to study abroad. The faculty has sat down to discuss how students struggling with time management and outside activities can find balance and make hard choices.
Many students' college loans are so large and overwhelming that students have to work while in school. They must be able to manage both school and work at the same time, not to mention all the valuable co-curricular opportunities that happen during the school year.
Some of these program-related activities include LA Club, speaker series, design competitions, ASLA meetings, field trips, and supporting the professors as graders for classes as well as research assistants – not to mention the student's personal interests and life in general.
Future employers are not only looking for scholastically-strong students, but also students who are active in their community and participate in activities that enhance their service to the profession and learning environment.
My understanding of the students' experience helps me to advocate for them so that they have a rich experience in the MSU LA program, which in turn makes the program the best it can be.
Some updates on what happened Spring of 2016 and Fall of 2016:
The 2
016 Spring Semester Career Fair was held in February with over a dozen firms attending. Thanks to all of those who attended and provided the students with career insight and advice. LAP Inc., Beckett & Raeder Inc., English Gardens, EDSA, City of East Lansing, Mariani Landscape, SmithGroup JJR, TBG, and Three C's Landscaping, Hamilton Anderson, TBG, Rivertown Landscapes, KWLA, GMB, Dow Gardens, and Field Operations. Please contact me (karenrus@msu.edu) if you or your firm are interested in participating in future career fairs.
During fall semester 2016, the MSU LAAAB and the LA program hosted the Distinguished Speaker Series featuring Debra Guenther, FASLA. Deb received the ASLA President's Medal in 2010, and her BLA from MSU in 1982. Deb's presentation highlighted the rapid urbanization in the world today and the means in which landscape architects serve globally and locally together.
In her lecture Anthropocene, she discussed how building and living in our cities is the greatest opportunity to explore and respond to human and natural processes, such as climate change, species loss, and social equity. Deb shared a wide range of work from Mithun, an interdisciplinary firm in Seattle and San Francisco that strives to design for positive change.
She also joined our fifth-year and first-year students in a vertical studio. The fifth year students explained their research and capstone design work with the first-year students, and together built models to express ideas of their work to serve diverse functions. Afterwards, she continued working with our fifth-year studios, taught this year by Robert Dalton, to develop a list of necessary inventory and analysis material and vital programming for their projects.
In closing, my heart is with helping the students succeed and grow into well-rounded practitioners. With my new position as the interim program leader, I will still continue to teach courses ranging in scale and complexity, based on student knowledge and the demands of the profession.
This broad interdisciplinary approach to landscape architectural design has evolved from my professional practice, training, and philosophy. It is my hope that sharing these insights will inspire in my students to develop Alumna Beth Hagenbuch working with students in studio their personal philosophies and talents that allow them to become the next generation of standard-bearers for the practice of landscape architecture in the future.
We have some amazing students, and I would like to congratulate them on their achievements! This year's award and scholarship recipients are:
2016 MI ASLA Awards
Nicholas Blok - Honor Award.
Cameron Robinson - Honor Award.
Mike Hou - Merit Award.
Cresha Wee - Merit Award.
Abigail Reimel - National Student. Advisory Committee to the board of Trustees of ASLA.
Abigail Reimel - passed the LEED GA exam to become a LEED Green Associate through the United States Green Building Council.
Spring 2016 Scholarship Recipients
Nick Blok - LA endowment.
Brad Hornburg - LA endowment.
Jacob Weiss - LA endowment.
Abigail Reimel - Thomas K. and Sheila T. Moore.
Xiaoyi (Cindy) Wang - June Knostman.
Arrianna Zannetti - Hamilton Anderson.
Stephani Onwenu - Kenneth and Shirley Polakowski.
Rayshuan Landrum - Kenneth and Shirley Polakowski.
William C. and Kathryn Burgess Stenquist awards 2nd years:
Harrison Boruszewski.
Brandon Chaney.
Abigail Reimel.
Wang Chi (Vincy) Tam.
Sarah Van Dyke.
Rachel Walsh.
Allison Newbegin.
Stephanie Onwenu.
Xiaoyi (Cindy) Wang.
Rachel Wilke.
Jiabin Zhang.
Yige Qu.
William C. and Kathryn Burgess Stenquist awards 3rd years:
Dexin Chen.
Brad Hornburg.
Rayshaun Landrum.
Yinliang Li.
Curtis Schaldach.
Jacob Weiss.
Cuiting Wu.
Arianna Zannetti.
William C. and Kathryn Burgess Stenquist awards 4th years:
Brock Downs.
Collin Manns.
Cameron Robinson.
Cresha Wee.
Haoxuan Xu.
Yanzhi Xu.
Nicholas Blok.
Morgan Haffey.
Xiao (Mike) Hou.
Hanbing Liang.
Cole Mauti.
Aaron Senchuk
Xumei Wang.