The feasibility of an urban equestrian center in Detroit
MSU Extension partners with Detroit Horse Power to explore the feasibility of an urban equestrian center.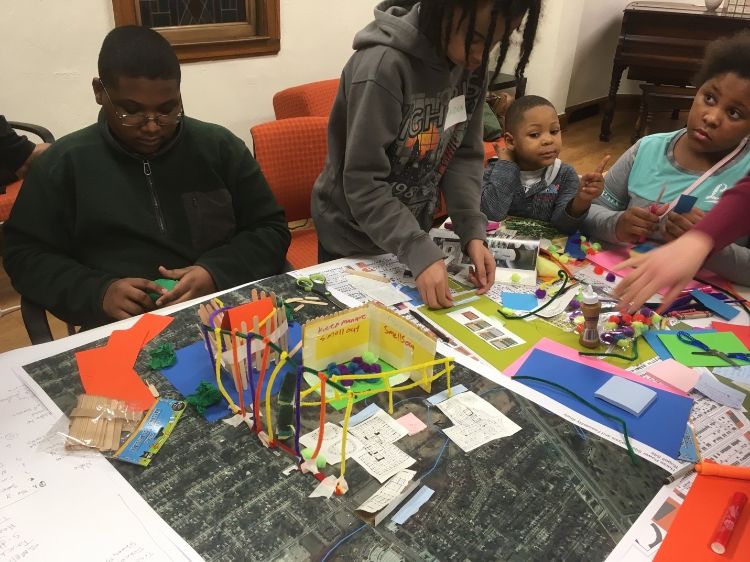 The Michigan State University Extension Equine Team serves on a task force for Detroit Horse Power (DHP) to explore the feasibility of developing an urban equestrian center in Detroit, Michigan. Detroit Horse Power, a non-profit organization founded by David Silver, teaches Detroit youth how to ride and care for horses as a way to develop critical skills that will set them up for future success. Currently DHP transports over 130 students to riding facilities outside of the city. DHP's vision to develop an urban equestrian center in the heart of the Motor City will bring equestrian opportunities and a managed green space directly to their kid's neighborhood year-round.
The MSU Extension Equine Team confers with the task force in facility design, and best management practices as related to horse health and environmental stewardship. Other task force members include neighborhood leaders and local officials. The task force efforts are skillfully facilitated by staff from University of Detroit Mercy's Detroit Collaborative Design Center (DCDC) using tools like SWOT and STEEP analysis.
The initial task force meetings have focused on site selection for the proposed equestrian facility. As part of the site selection process, DHP has considered both their mission and facility needs centering on the following criterion:
community support for the facility
proximity to local youth
environmentally safe for both people and animals
DHP envisions acquiring a minimum of 15 acres to house the facility, which will include space for a horse barn, riding areas, paddocks, manager housing, parking, as well as storage for feed, bedding, and equipment. In addition, planning for the handling, treatment and short-term manure storage are crucial to ensure that neighboring residents' concerns with odor and insects are addressed. By thoughtful planning, DHP has developed a facility layout model that guides their site selection process, ensuring they will have adequate space and the ideal location to meet their long-term goals.
With DHP's facility plan in mind, the task force is reviewing potential sites using Michigan Department of Agriculture and Rural Developments' Generally Accepted Agricultural and Management Practices (GAAMPs) as a reference to address odor concerns and manure management. Recommendations taken from GAAMPs will help guide the site selection and facility layout to eliminate potential odor and runoff from livestock waste by considering science-based recommendations on the following criteria:
property set-backs
land topography
soil drainage
prevailing winds
manure handling, treatment, storage and removal
Other considerations at play are Detroit land use ordinances and traffic patterns that may affect the use, accessibility and security of the facility.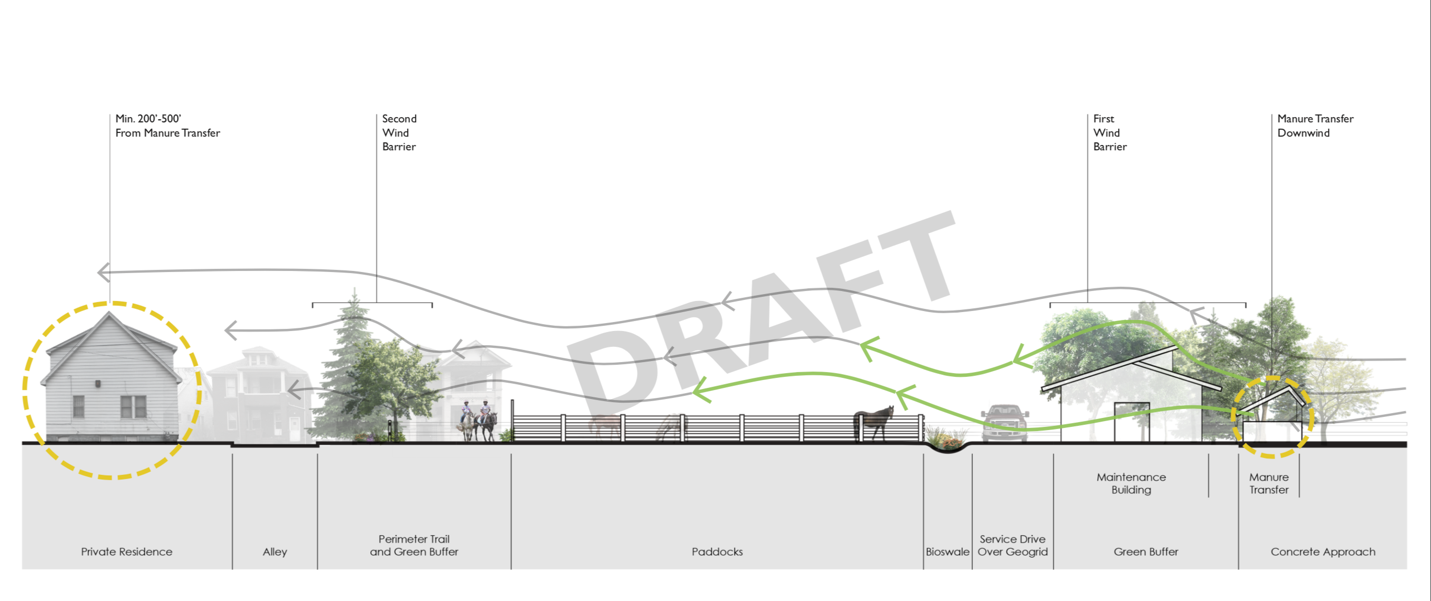 Schematic layout of the manure storage facility in relation to prevailing winds, set-backs and neighbors. Not the trees serve as both a sound and odor barrier. Created by Detroit Collaborative Design Center.
While the adults are collaborating in stakeholder and task force meetings, Detroit Horse Power's youth are also engaged in the planning process. During their after-school program, the youth developed a 3-D design for the proposed equestrian center which included a double-barrier perimeter fence that allows for trail riding around the facility. Helping to bring their concepts and dreams to reality keeps Detroit Horse Power's task force and partners moving forward and beyond!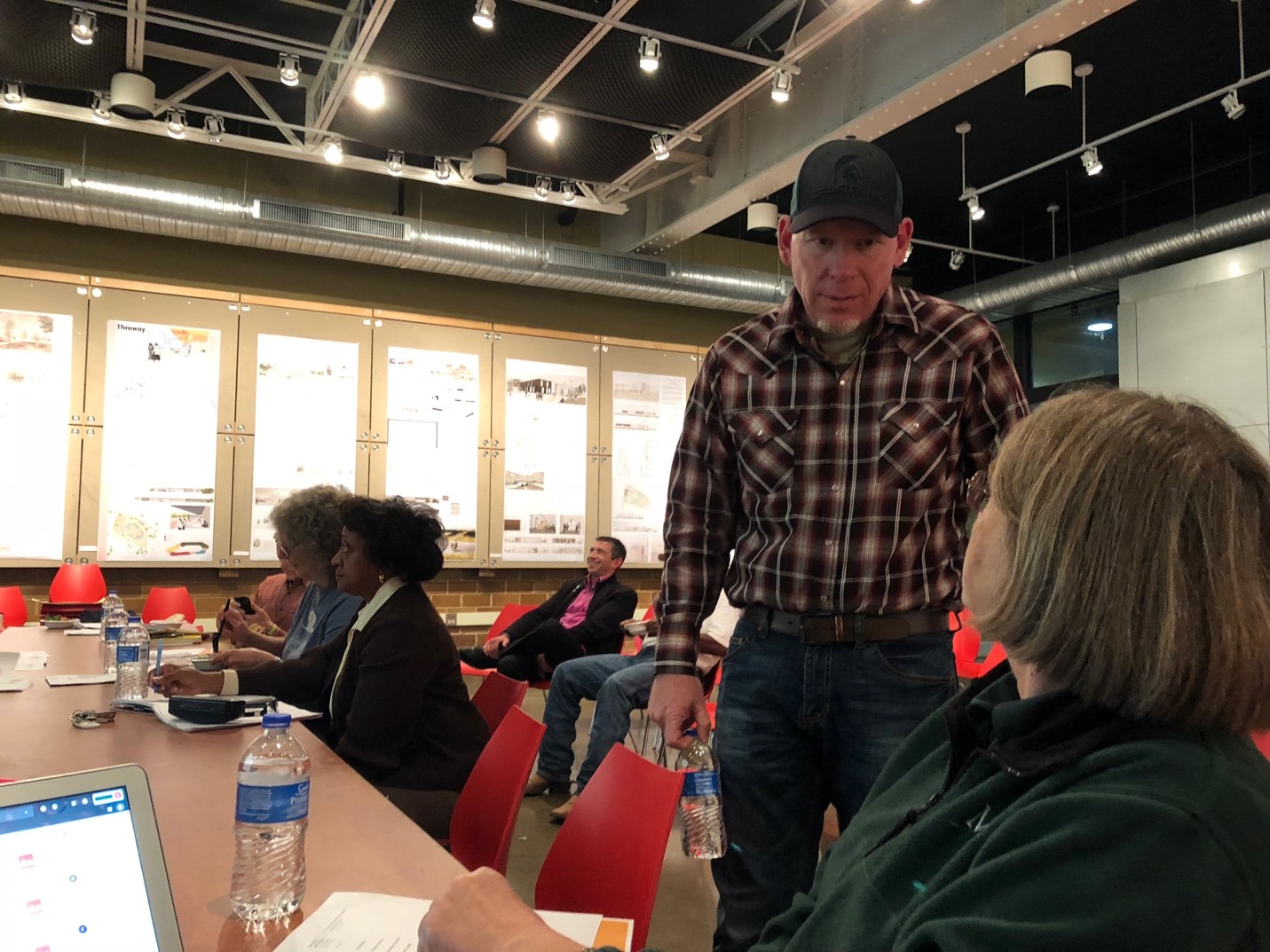 MSU Extension Equine Team members participate in the Detroit Horse Power urban equestrian facility task force. Photo by Christine Skelly, MSU Extension.
Keep up with the Detroit Horse Power by following them on Facebook.
Visit the Michigan State University Equine Team's site at www.canr.msu.edu/horses/.