The Grand Rapids Urban Forest Project: Building citizen advocates
Project to plant 200,000 trees by 2020 depends upon the engagement of the city's citizens.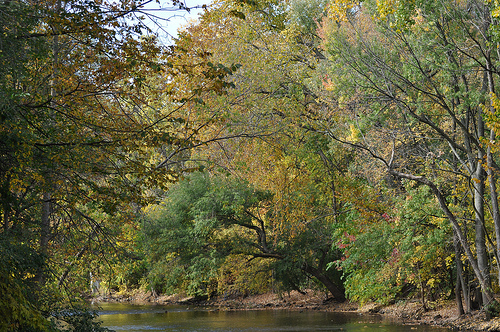 Friends of Grand Rapids Parks (FOGRP), a non-profit organization created in 2008, believes that trees may be key to the economic viability of the city of Grand Rapids. Trees provide many services to the city and its residents including storm water retention, oxygen production, soil erosion prevention, carbon sequestration, climate control, wildlife habitat and natural beauty.
FOGRP cites research from 2010 that calculates the economic value of the services provided by a tree based on its species type and age. FOGRP calculated the total value of the services provided by the current urban forest in Grand Rapids (on public lands alone) is $6.5 million annually. They also calculated that for every $1.00 spent by city government on labor, water and equipment to maintain the city's trees, $3.60 is returned in services by the urban forest to the city and its residents. Moreover, trees on private lands contribute significantly more to the benefits received by the city's urban forest.
Today, Grand Rapids has a 35 percent urban forest canopy. In 2011, FOGRP launched the Urban Forest Project in partnership with the City of Grand Rapids. One of the key goals of the project is to increase the urban tree canopy to 40 percent. This will require an additional 200,000 trees to be planted.
Tyler Stevenson, Forester for the city of Grand Rapids, was successful in securing $360,000 to plant trees in 2012. Stevenson states, "We purchase one inch to one and a half inch saplings. We also install a Gator bag with each tree that holds 20 gallons of water to make sure the saplings receive enough water. The total cost of the tree, Gator bag and labor to plant the tree is approximately $250 per tree." In addition to planting new trees, the project will focus on the maintenance of current trees. This includes treatment of approximately 1,400 trees as a result of Emerald Ash Borer damage.
Even though the city of Grand Rapids is a critical partner in the Urban Forest Project, city government only controls five percent of the 1.5 million trees within the city's limits. Private property owners are the key to the success of this initiative. Friends of Grand Rapids Parks intends to use technology, sponsor community events and offer several $500 mini-grants to neighborhood groups holding tree plantings and other events highlighting the value of the city's urban forest.
To provide home and business owners with information on the proper techniques to plant and maintain a tree, as well as how to select a species (the project stresses the need for tree diversity), FOGRP will offer a web-based resource center. Michigan State University (MSU) Extension's resources will also be helpful educational resources to support this effort. For example, MSU Extension's bulletin "Planting Techniques: A Guide for Successful Plant Establishment (E3111)" is available for $5.00 on through the MSU Extension Bookstore. Additional resources may be found on the MSU Extension website.
Citizens will also be engaged in creating a web-based map of the city's trees. This online system will encourage users to post photos of their favorite trees and tell a story about their trees. Steve Faber, Executive Director of Friends of Grand Rapids Parks, says, "This Citizen Tree Map will be a public way for people to carve their initials in their favorite tree without actually damaging it. I look forward to reading the stories of when trees were planted, cracking Hickory nuts for the first time and the locations of the best bird nests." An example of an online tree map for San Diego County, California is available on the county's website.
Carol Townsend, a retired MSU Extension Community Development Educator and Grand Rapids resident, hopes to apply for one of the $500 mini-grants to host a tree planting party with her condominium association. "Trees add so much value to our neighborhood, I think several neighbors would pitch in to plant – especially if we have food to share," said Townsend.
Lee Mueller, Urban Forest Project Coordinator said if the project goes as planned, it will be a leading urban forestry project in the nation. Other initiatives include New York City's Million Trees campaign and the San Francisco Urban Forest Project. For more information on the Grand Rapids Urban Forest Project, visit the Friends of Grand Rapids Parks website or contact Lee Mueller at lee.mueller@friendsofgrparks.org.