Additional tips for a successful 4-H club
Explore the basics of a 4-H club and a club meeting's components.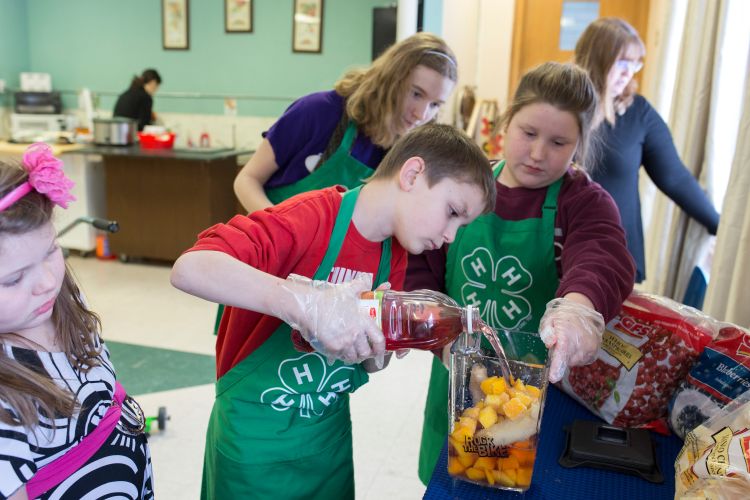 4-H is a learn-by-doing, educational, fun program for young people ages five to nineteen. Through involvement with caring adult volunteers, 4-H members gain meaningful experiences that contribute to their development and personal growth. The value of the experiences depends largely on the relationship built between and among the members and adults. Active participation in a 4-H club supports young people to develop life skills and assets.
A model 4-H club includes the following:
At least five youth members from two or more families
One or more registered adult volunteers (who has completed the Volunteer Selection Process and became a Gold Status Volunteer)
Decision making and operation of the club is the members' primary responsibility
Six or more club meetings during the 4-H year (Sept. 1 to Aug. 31)
Participation in learning experiences outside the local club
Involvement in the community at large with service learning activities
Evaluation and recognition of progress on individual and group goals
Fundraising should be done for the good of the total group and must be consistent with the Michigan 4-H Treasurer's Record Book; raising funds should not be the main focus of group activities
The success of the local 4-H club is the key to positive learning experiences of the club members. Here is a list of 10 items considered to be basic criteria of a strong club:
At least 80% of the members re-enroll each year.
Each member receives recognition for their 4-H involvement; this may be year pins, project completion certificates or public recognition through a news article.
The club has well planned meetings with three parts: business (group decisions, 15-20 minutes), learning (program activities, 40-60 minutes) and fun (group team building activities, recreation or social time, 15-20 minutes).
The majority of the membership attend each meeting.
Each member's parents/guardians participate in the club meetings or activities at least once a year.
The club has a program plan with goals for the year.
Members have the main responsibility for planning programs and activities.
The club plans and completes at least one community service learning project.
At least 80% of member projects are completed each year.
Members are involved in county, state and/or national 4-H opportunities.
By taking time to intentionally plan and evaluate these ten criteria for a strong club, success will be ensured. Leaders should encourage members to devise a method to evaluate progress in each criteria area. A spread sheet or chart visible to the entire club would be helpful.
After the basic components and evaluation of a 4-H club are reviewed, the club meeting itself should be discussed. An effective meeting will be organized and led by youth officers with advice from screened and trained adult volunteers. A well-planned meeting gives members the opportunity to:
Make new friends and get to know current friends better
Share and expand ideas
Develop self-confidence and leadership skills
Participate in decision making
Acquire new knowledge
Enjoy fun recreational activities
Several basic items to include in planning include where to hold the meeting, definite starting and ending times, frequency, yearly club calendar of times and events and encouraging participation by all members.
The "Points to Look for in A Good 4-H Meeting" form might be a useful resource.
Points to Look for in A Good 4-H Meeting
Answer yes or no to these questions to evaluate the effectiveness of your club meeting.
Do all of the officers and leaders check meeting plans with one another beforehand?
Does the president call the meeting to order on time, keep moving down the agenda and close the meeting on time?
Does the secretary take attendance and record it in the minutes?
Does the club review the previous meeting minutes and treasurer report for approval at every meeting?
Do all officers use correct parliamentary procedure, when appropriate?
Is the business part of the meeting short and concise?
Are guests introduced and made to feel at home?
Is there an educational program in addition to the business meeting and recreation time?
Does the meeting have variety?
Is the educational program of interest to everyone?
Is there an opportunity for members to get to know each other?
Are all announcements short and to the point?
Do officers avoid doing all the talking?
Do volunteer leaders avoid doing all the talking?
Do all or most of the members have an opportunity to talk during the meeting?
Is the fun (recreation) suitable to the meeting place and the group?
Do members, officers and leaders treat each other in a courteous and respectful manner?
Are volunteer leaders given a chance to voice their opinion?
Are all members given a chance to voice their opinions without feeling judged or ridiculed?
By following the model of a 4-H club, evaluating agreed upon criteria and planning an effective club meeting a successful year may be ensured for adults and members alike. For other club development articles, see So You Are an Officer in Your 4-H Club Series.
Michigan State University Extension and the Michigan 4-H Youth Development program help to prepare youth as positive and engaged leaders and global citizens by providing educational experiences and resources for youth interested in developing knowledge and skills in these areas.
For more information about 4-H learning opportunities and other 4-H programs, contact your local MSU Extension office.