Top 10 native plants for shorelines that are easy to find
These native plants are not hard to locate and can improve your shoreline with their beauty and support of pollinators.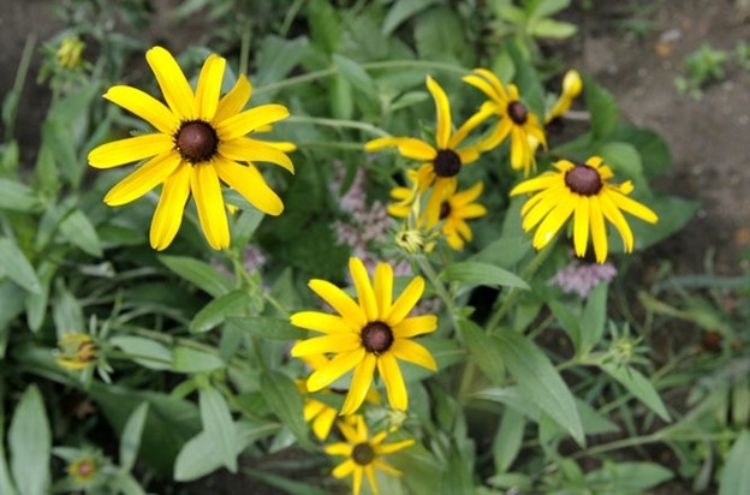 The following native plants are my favorites for many reasons and are easy to find if you know where to look. A fairly comprehensive list of Michigan Native Plant Producers can be found at the North Oakland Wild Ones Native Plant Nursery List where you should be able to find a native plant nursery within your region that can provide many, if not all, the plants on this list.
Some commercial nurseries also carry native plant species, but they may or may not be grown from native seed. Another consideration is whether plants have been treated with pesticides that can have negative effects on butterflies and wildlife.
These plants are my favorites for their beauty but also for their ability to thrive in the tough, dynamic environment of the shoreline. I also admire them for their functionality – their roots hang on to your soils better than turf grass, and they support our essential pollinators.
On to the favorite native plants for your shoreline!
Let's start with the emergent plants that grow below the water level, with the top part of the plant emerging above the water.
I love Pickerelweed (Pontederia cordata) for its striking violet flowers that bloom from June through September. It also forms colonies, grows well in full sun and partial shade and is typically 2-3 feet tall.
Another emergent favorite is Blue Flag Iris (Iris versicolor) for its showy blue-violet flowers and sword shaped leaves. This beauty is also 2-3 feet tall, grows in about 1 foot of water in full sun or part shade, and forms clumps while attracting butterflies and hummingbirds.
This next group of favorites grow in consistently wet soils along the shoreline. My very favorite in this group is Swamp Milkweed (Asclepias incarnata) because this attractive plant with pink flowers is the larval host plant for the Monarch butterfly. Larval host plant means that Monarchs only lay their eggs on and the caterpillars only feed on milkweeds until they produce a chrysalis and then metamorphose into butterflies.
Next is Cardinal Flower (Lobelia cardinalis) with its gorgeous, showy red flowers that attract and feed hummingbirds and butterflies. I have seen large groups of Cardinal Flowers growing along the Huron River and they are just stunning. However, in gardens cardinal flowers are also favorites with rabbits and deer – as food. They also tend to be short-lived, but also readily re-seed.
Just one Rose Mallow (Hibiscus moscheutos) will make a bold statement with their impressive large 6-9 inch pink flowers at the top of 3-7 foot tall stems that bloom from late summer to fall. They also attract pollinators and hummingbirds.
Joe Pye Weed (Eutrochium purpureum) is both easy to find and easy to grow. Its many pink flowers attract all kinds of pollinators and wildlife. Joe Pye grows about 3-6 feet tall, and grows in wet soils in full sun, part shade and shady environments.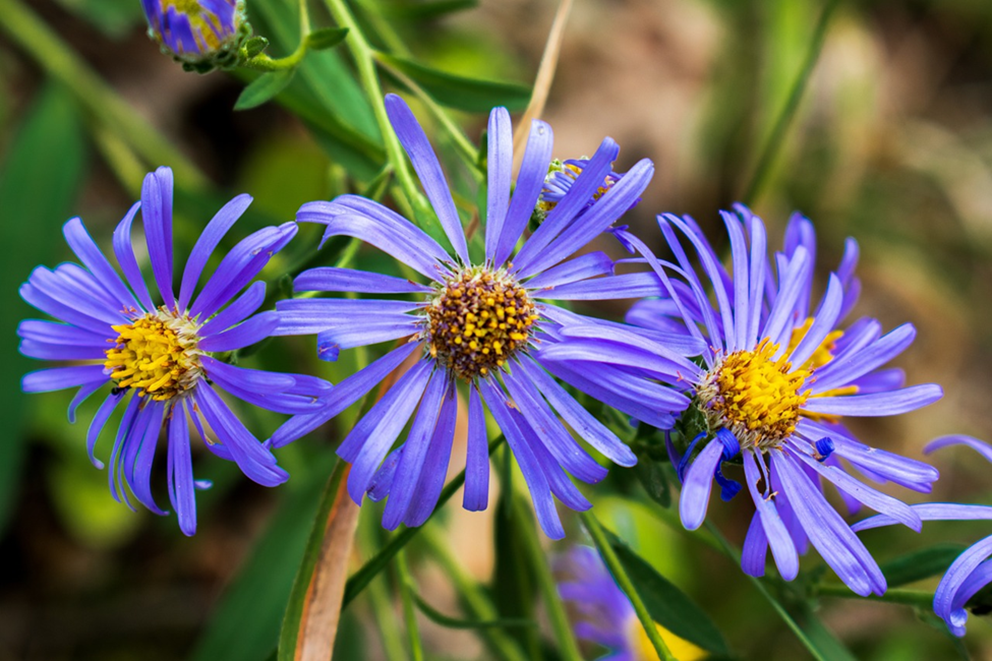 New England Aster (Symphyotrichum novae-angliae) has a great color combination with yellow centers and periwinkle purple rays that make up their daisy like flowers. I especially like this flower because it starts to bloom profusely in the fall when many other flowers (and summer) are fading. New England Aster is the larval host plant for the Pearl Crescent, Silvery Checkerspot, Gorgone Checkerspot and Northern Crescent butterflies.
The next group of favorite plants grow on well-drained upland shoreline soils. New Jersey Tea (Ceanothus americanus) is a small shrub that grows to 1-3 feet tall and has small white flowers in July. This shrub is attractive and short enough to maintain your view of the water.
Blazing Star (Liatris spicata) has tall spikes of many tiny pink flowers and is a good vertical element to your shoreline garden. Its showy masses of tiny blooms attract butterflies and pollinators and does well in poor, dry soils that are typical of the crest of shorelines. This plant is often readily available at most nurseries.
Finally, yet importantly is Black Eyed Susan (Rudbeckia hirta) with its radiant yellow flowers that flourish in the driest and sunniest of environments. It is the larval host plant for the Gorgone Checkerspot butterfly and is available at most garden plant stores. This happy daisy-like plant will cheer any shoreline.
I hope this article has helped you to become more familiar with these native plants and will encourage you to try to plant some (or all) of them on your shoreline.