True 4-H science teen leaders: Hillsdale County
Hillsdale County has a true 4-H poultry science teen leader in Haley Lemle.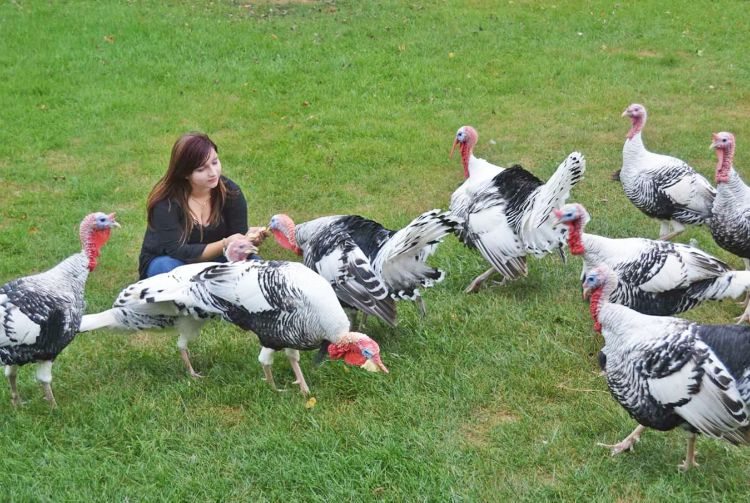 Hillsdale County 4-H has a true 4-H teen science leader in Haley Lemle, a leader in the poultry project area and working on becoming a teen leader for shooting sports. While Lemle is very knowledgeable, she loves her poultry and strives to increase her understanding of poultry. She regularly studies and explores research to improve her knowledge and skills. Lemle works very hard and is always willing to help and mentor others. She used to be very quiet and shy; now she is making plans to become a teacher.
Lemle has been a teen counselor at the Hillsdale Clover Bud Camp and has emceed the Hillsdale County Youth and Adult Leader Recognition Program. She is a member of the On Target 4-H Club, where she is a teen leader and instructor for shooting sports. Her patient and kind character make her an excellent teen leader.
She has been involved in 4-H for seven years. Her family moved from Toledo, Ohio, to Hillsdale, Michigan and were not familiar with 4-H at that time. They attended the local 4-H open house, joined 4-H and have been members ever since.
Lemle has received many local 4-H awards and has participated in the State 4-H Awards program in the poultry project area. She was president of her former 4-H club and is a member of the Hillsdale County 4-H Council and the Hillsdale County 4-H Shooting Sports Committee. She has been the secretary for the Shooting Sports Committee for a couple of years. Lemle was also a member of the Michigan 4-H State Youth Leadership Council.
Lemle has done a research project for her poultry, which has led her to regional, state and national science contests. She has attended the National 4-H Congress in Atlanta, Georgia, and has participated in Michigan's 4-H Capitol Experience and Citizenship Washington Focus.
Insa Raymond, Michigan State University Extension educator and Hillsdale County 4-H program coordinator, commented on why she believes Lemle is a true poultry science teen leader. "Haley has developed a love for 4-H and a love for science, and especially for her poultry," said Raymond. "This has opened many doors for her."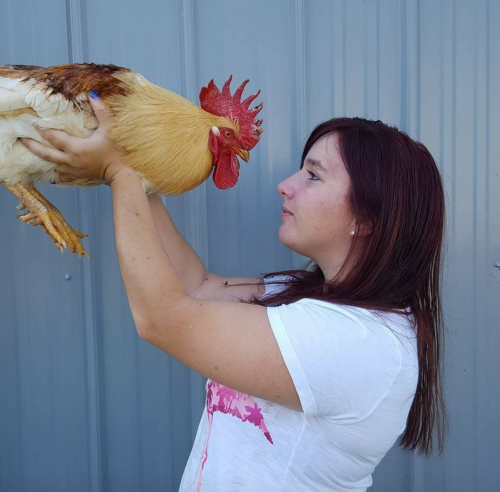 Raymond also offered advice for other youth interested in becoming a 4-H teen leader. "My advice for becoming a teen leader is to find your passion, cultivate and grow your passion, and be willing to share it with others."
Hillsdale County is growing a true 4-H teen science leaders in Haley Lemle! The next generation of invested True Science Leaders is continually growing in Michigan.
Michigan 4-H is proud to be part of the National 4-H tradition of supporting and growing true leaders. Are you a 4-H alumni? Do you know someone who is? Raise Your Hand for 4-H to show your 4-H pride and help provide hands-on learning that empowers kids across America.
Michigan State University Extension and the Michigan 4-H Youth Development program help to create a community excited about STEM (Science, Technology, Engineering, and Mathematics). 4-H STEM programming seeks to increase science literacy, introducing youth to the experiential learning process that helps them to build problem-solving, critical-thinking and decision-making skills. Youth who participate in 4-H STEM are better equipped with critical life skills necessary for future success.
To learn more about the positive impact of Michigan 4-H youth in STEM literacy programs, read our 2016 Impact Report: "Building Science Literacy and Future STEM Professionals."
Michigan 4-H has many 4-H science programming areas for youth to explore. Science is everywhere with many questions to ask and discoveries to be made. For more information about 4-H learning opportunities and other 4-H programs, contact your local MSU Extension office.
Other articles in series