Understanding enterprise budgets and economic profit
Learn how enterprise works and how it will affect your farm and future.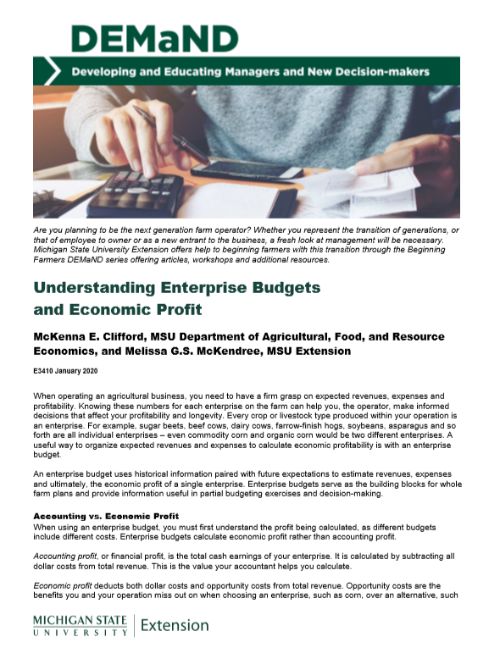 When operating an agricultural business, you need to have a firm grasp on expected revenues, expenses and profitability. Knowing these numbers for each enterprise on the farm can help you make informed decisions that affect your profitability and longevity.
Introducing bulletin E-3410: Understanding Enterprise Budgets and Economic Profit, the latest publication in the Beginning Farmers DEMaND (Developing and Educating Managers and New Decision-makers) series.
Every crop or livestock type produced within your operation is an enterprise. For example, sugar beets, beef cows, dairy cows, farrow-finish hogs, soybeans, asparagus and so forth are all individual enterprises – even commodity corn and organic corn would be two different enterprises.
Enterprise budgets serve as the building blocks for whole farm plans and provide information useful in partial budgeting exercises and decision-making. They use historical information paired with future expectations to estimate revenues, expenses and ultimately, the economic profit of a single enterprise. Check out the bulletin for more details on how an enterprise budget can help your farm operation today.
Be sure to also check out additional bulletins in the DEMaND series on the MSU Extension Farm Management website, located in the Resources section. These publications are designed to help beginning farmers learn about financial and business management strategies that will assist them in becoming the next managers and decision-makers on the farm.