Using pneumatic defoliation to improve fruit color and quality in apple: A follow-up from the International Tree Fruit Association Annual Conference
A summary of research from the Laimburg Research Centre and Cornell University for improving quality for fresh market apple varieties.
Greater red color development for apple varieties such as Honeycrisp, Fuji, Evercrisp and Pink Lady is associated with higher prices in the fresh market and greater customer appeal. Retailers require 50-60% red skin color in apple, which can be challenging to achieve in Michigan. Primary pigments involved in apple skin color development include anthocyanins, carotenoids and chlorophylls. Development of pigments result from biochemical processes that are influenced by tree genetics, nutrition, canopy architecture, crop load and the developmental stages of fruit. The environmental factors, temperature and light, also strongly affect red color development.
To improve red color development and light conditions for fruit, growers can use strategies and tools such as reflective materials, summer pruning and leaf removal. While some growers have used leaf removal by hand to expose fruit to direct sunlight and improve red color in apple, this practice is labor intensive and costly.
Research presented at the International Tree Fruit Association Annual Conference highlighted ongoing research on leaf removal technology using pneumatic defoliation machines (Photo 1). Researchers Christian Andergassen from Laimburg Research Station (South Tyrol) and Mario Miranda Sazo from Cornell Cooperative Extension shared their experiences with leaf removal, pneumatic defoliation and fruit quality.
Andergassen assessed leaf removal on the apple varieties Nicoter, Kanzi, Cripps Pink and Pink Lady, and trees were trained in the slender spindle system. His group compared leaf removal by hand, summer pruning and a pneumatic defoliation machine. Pneumatic defoliation machines use alternating pulses of compressed air to strip leaves off trees. Since leaf removal by hand is labor intensive, Andergassen investigated the efficacy of a defoliation machine to determine if it provided similar levels of defoliation and improvement of red color compared to hand defoliation.
For Nicoter and Kanzi, Andergassen evaluated the percentage of fruit with more than 33% red color in response to leaf removal treatments of summer pruning, manual leaf defoliation (by hand), mechanical pneumatic defoliation and an untreated control. He found that leaf removal by either method (defoliation machines or manually) resulted in 89.6 and 90.1% of apples with more than 33% red color while the percentage of apples with more than 33% red color was 53.3% for untreated controls and 70.4% for summer pruned trees (Photo 2a).

For Cripps Pink and Pink Lady, the mechanical, pneumatic defoliation was tested at 0.4, 0.7 and 1.0 bar of air pressure compared to summer pruned trees. Andergassen reported that treatments of 0.7 and 1.0 bar of air pressure resulted in 20-30% more fruit reaching the regional apple quality requirements of more than 40% red color, compared to summer pruned trees and the mechanical defoliation treatment at 0.4 bar of air pressure (Photo 2b; Photo 3). He also reported that pneumatic defoliation did not affect return bloom; however, his research group will continue experiments to evaluate potential long-term effects of leaf removal on tree health, spur quality, carbohydrate levels, and fruit development.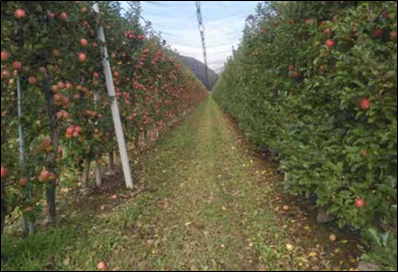 Miranda Sazo reported that pneumatic defoliation in New York improved fruit color and quality on Gala, Fuji, Pink Lady, Minneiska and Honeycrisp. However, he noted that for Minneiska and Honeycrisp, there was some fruit damage, and too many fruit were knocked off the tree. Miranda Sazo also emphasized the importance of using pneumatic defoliators with narrow (1-2 feet wide) and vertical canopies. Pneumatic defoliators are most effective up to 12 inches into the canopy.
Companies that sell pneumatic defoliators include Fruit Tec, Olmi, Blueline and Gearmore. Andergassen noted that each company will set appropriate metrics for their machine. It is important for growers to pay close attention to the air pressure, tractor speed and distance from the tree when they are using the mechanical defoliator to minimize bruising and fruit drop. He suggested that it is better to drive at a slower speed to minimize damage and maximize defoliation. There are various recommendations for speed and air pressure in apple growing regions around the world as well as Washington, New York and Pennsylvania, but machine use should be adapted for each variety and orchard location.
Researchers provided some general recommendations and takeaways:
To optimize defoliation, drive as close as possible to the canopy without striking it.
Use air pressure at 0.7 bar (no higher than 0.8 bar) at 0.6 to 0.7 mph tractor speed.
Remove up to 50% of the leaves to improve fruit color.
Do not defoliate earlier than two weeks before harvest.
Do not defoliate prior to bright sunny days after treatment to avoid photooxidative stress and sunburn.
For other articles related to the International Tree Fruit Association Annual Conference annual meeting, check out the Michigan State University Extension Fruit & Nuts website.