Van Buren County celebrates 100 years of Extension
The signing of the Smith-Lever act in 1914 authorized the creation of the Cooperative Extension System. One hundred years later, Van Buren County board of commissioners and Extension personnel gathered to celebrate 100 years of service.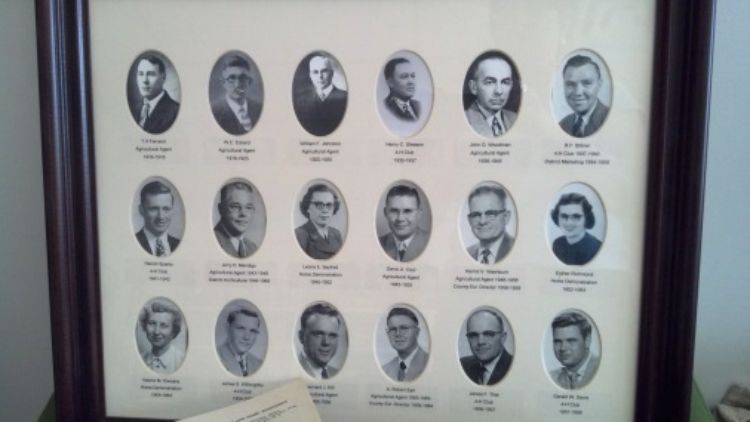 Van Buren Extension Educators have been hard at work since the beginning. A photographic history of extension educators hangs in the Van Buren office with the first photo dating as far back as 1916. Michigan State University Extension and the Van Buren County Board of Commissioners gathered to celebrate the 100th Anniversary of the Smith-Lever Act of 1914 with cake and an overview of local extension history.
Ginger Hentz, District 13 Coordinator, opened the evening with a brief introduction about the significance of Extension in Van Buren County followed by a presentation illustrating historic events that have taken place over the course of 100 years. Listed below are a few interesting facts about Extension education in Van Buren County:
Liberty Hyde Baily was a Van Buren County native who attended Michigan State University and later Cornell. He was assigned chair of the Commission on Country Life committee from which the Smith-Lever Act was created.
In 1929, Van Buren County officially adopted a resolution making Cooperative Extension a permanent department within the County organization. Due to this resolution, Cooperative Extension became financed along with Federal and State government. That same year, the acting Extension Agent served as secretary of the Van Buren County Centennial Committee and was in charge of the centennial parade.
During the Great Depression, Extension played a pivotal role in research and development of new technologies to help "electrify the nation.
In 1964, Extension celebrated its 50th Anniversary. A booklet was created highlighting three goals for the future: "To create a more financially stable environment for Michigan residents, to develop individual talents and capacities and to create more satisfying communities in which to live."
Today, MSU Extension remains on the forefront as a local, state and national educational presence. It has remained grounded in serving local people and local needs.
The Anniversary celebration was well received, leaving those that attended looking forward to what the next 100 years will have to offer.