Visualize lake level changes with new web tool
Lake Level Viewer demonstrated by NOAA in Traverse City.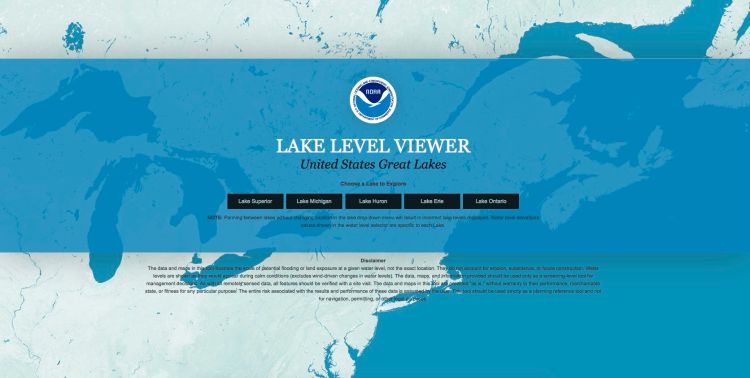 The National Oceanic and Atmospheric Administration (NOAA) recently has developed an online easy-to-use, interactive tool to help users visualize long-term lake level changes in the Great Lakes. This tool was developed by the NOAA National Ocean Service's Office for Coastal Management as part of its Digital Coast initiative.
Lead tool developer Brandon Krumwiede, NOAA's Great Lakes Geospatial Coordinator, demonstrated the Lake Level Viewer to interested users at a meeting in June 2015, hosted by Northwestern Michigan College's Great Lakes Water Studies Institute and co-sponsored by Michigan Sea Grant.
The Lake Level Viewer is designed to:
Use best available, high accuracy topo/bathy Lidar data to build a seamless Digital Elevation Model (DEM) for Great Lakes coastline.

Map lake levels below and above each lake's long term average water to visualize the impacts of both flooding and low lake levels (+/- 6 feet).
Develop photo simulations at local landmarks to visualize change.
Make the data available to various users.
Lidar data is an amazing coastal data set which is highly accurate and is collected as part of the National Coastal Mapping program. The data is gathered from fixed-wing aircraft using a red and green laser and is geospatially corrected; generally data is high quality in Northern Michigan with good returns including water depth (with clear water) and land based topography.
The Lake Level Viewer is one of the first tools to show and make this data available in a practical way. The tool allows users to visualize water level changes at a screening level (for education/outreach or starting the discussion); use the web map services in other tools and with other data; get the data layers to use for hazards profile/vulnerability assessment; and allows use of the underlying Digital Elevation Models (DEMs) for other purposes (storm water, hydrology, erosion etc.)
Information gathered at the June meeting in Traverse City included Lidar information gaps for the Beaver Island archipelago and the Bay de Noc areas of Michigan. It is hoped these areas can be flown with Lidar coverage in future years.
Find the Lake Level Viewer out at http://coast.noaa.gov/llv/
If people are interested in help using the Lake Level Viewer, they are welcome to stop by the Grand Traverse Michigan State University Extension office or contact Mark Breederland, Sea Grant Educator at 231-922-4628 (breederl@msu.edu).