West central Michigan small fruit update – July 19, 2023
Blueberry maggot and spotted wing Drosophila are active. Pest control measures are required to prevent fruit infestations.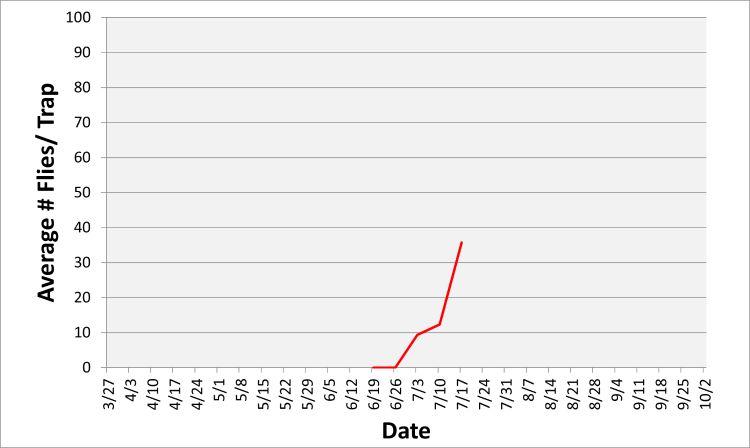 Harvest is in progress in west and southwest Michigan blueberry fields. Good weather conditions in west Michigan favor harvest activities without major problems. Current weather conditions in west central Michigan are more benign than during the past weeks. There was an important change in the weather pattern that brought more temperate conditions including some important rains. For the past seven days, the average minimum and maximum daily temperatures were 60 and 78 degrees Fahrenheit, respectively. There was rain during the same period that left an accumulation of 1 to 1.3 inches. The minimum rain accumulation occurred around Ottawa County and the maximum around Grand Junction, Michigan, in Van Buren County. This amount of precipitation was very important for blueberry fields that were already suffering from heat stress at a time when plants are demanding more water.
With changes in the prevailing weather conditions, there was also a change in the environmental conditions favoring the presence of two of the most important pest problems of blueberries at harvest time, blueberry maggot and spotted wing Drosophila.
According to the Trevor Nichols Research Center scouting report, blueberry maggot flies started emerging two weeks ago. After the rains this week, there was a large emergence of flies detected by our monitoring traps (Figure 1). After the emergence of this large number of adults, control measures need to be considered. Flies need to feed for approximately 10 days to mature their eggs and start ovipositing. Growers can take this period to prepare the application program.
Insecticides recommended for blueberry maggot are different from the ones used for spotted wing Drosophila. Recommended insecticides include Imidan, Verdepryn and Assail. For dosage amounts of these insecticides, please check the 2023 Michigan Fruit Management Guide, Michigan State University Extension Bulletin E-154. You may also ask for assistance from your nearest MSU Extension office.
Spotted wing Drosophila activity started increasing this week after the rains. High temperatures during the past weeks inhibited the flight and activity of this pest. In addition, high temperatures (above 90 degrees Fahrenheit) decrease the longevity of the flies and reduce fly's fecundity. Therefore, the early arrival of spotted wing Drosophila at blueberry fields was delayed and only now is it becoming more active. Trap dates indicated that the number of flies caught increased from less than 10 per trap in the previous week to 20 or more this week.
When managing spotted wing Drosophila, insecticide recommendations need to take into consideration current weather conditions at the target site, and the size of spotted wing Drosophila population present at the target. Mustang Maxx, Imidan, Brigade, Entrust, Assail, etc., are good alternatives at this time. For dosage amounts of these insecticides, please check the 2023 Michigan Fruit Management Guide or contact your nearest MSU Extension office.