What to do with all this plastic? Part 1
A global look at the plastic problem and staggering figures consuming us.
Every day, every hour and nearly every minute we encounter plastic in our day-to-day lives. Plastic is in our homes, kitchens, bathrooms, cars, in the fabrics now that make up our clothing, and, occasionally even showing up in our food. Recently in Japan, consumers discovered plastic in their McDonald's chicken nuggets. Given the abundance of this synthetic product, it really shouldn't surprise consumers that in the 21st century if a little plastic shows up in their diet… it is showing up just about everywhere else!
According to the Environmental Protection Agency (EPA), "nearly 32 million tons of plastic were generated" in 2012. That same year, the EPA estimated the United States alone "generated almost 14 million tons of plastic as containers and packaging, 11 million tons as durable goods (appliances), and almost 7 million tons as nondurable (plates & cups)…" and approximately only nine percent of that entire waste was recovered for recycling.
What happens to the rest of this plastic waste? Well, there are a number of locations this waste collects, including landfills, coastlines, communities and even massive bodies of waste circulating in our oceans.
The Great Pacific Garbage Patch, also known as the Pacific trash vortex, which was once considered a myth, actually exists and said to be approximately the size of Australia and/or Texas by some estimates. National Geographic reports there are two distinct collections between eastern Japan and the western United States. According to National Geographic, there are said to be upwards of nearly 700-3500 plastic items per sq. kilometer (see National Geographic map) in some areas within these trash vortex patches. A large portion is said to come from North American and Asian land activities. In 2008, according to Discover magazine, the United National Environment Program reported nearly 80 percent of marine debris comes from innocent shoreline activities, such as picnics and beach visits. (Learn more about the Great Pacific Garbage Patch)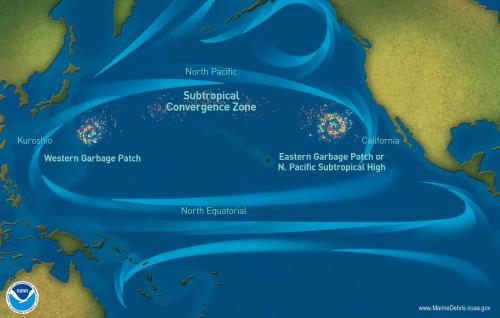 According to the Environmental Center at University of Colorado Boulder, 20 percent of water bottles are recycled. The other 80 percent contribute to nearly 3 billion pounds of plastic waste annually!
Fortunately, over the last several years the abundance of plastic water bottles (and other plastic products) has helped spawn creative uses and entrepreneurial ideas to manage this human manufactured product that just doesn't seem to go away and probably won't for a long time.
Part 2 of this series looks at communities around the world that recognize plastic as a problem and have found ways to mitigate plastic waste in a productive and resourceful way.
Michigan State University Office of Sustainability is actively working towards more sustainable action and living plans. In addition, Michigan State University Extension offers a variety of programs to provide expertise, education and development of communities throughout the state of Michigan. By specialists, educators, program coordinators, instructors and associates all working together across lines of specialization, great things can be developed and from the input from citizens of Michigan, relevant and life-changing programs will be delivered.
Other articles in this series: