World Food Prize Michigan Youth Institute develops employability skills
Check out this unique learning experience that fosters employability skills and so much more.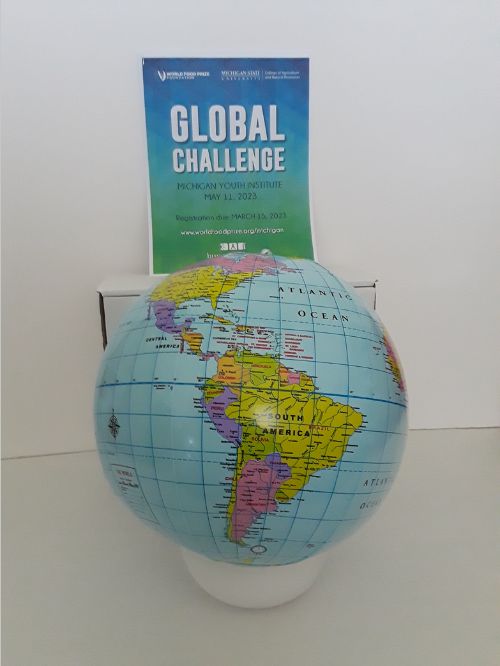 Michigan State University (MSU) Extension provides a variety of opportunities and experiences throughout the year to help young people develop and enhance employability skills. Networking, communications, problem-solving, critical thinking, cultural awareness and social skills are just a few of the skills today's employers look for in their employees. World Food Prize Michigan Youth Institute (WFPMIYI) is an event that fosters those skills while allowing youth to explore a variety of jobs and careers related to food security, science, social science, and agriculture.
The WFPMIYI is an experience where youth in grades 8-12 explore critical global challenges and exciting ways to make a difference here and around the world. WFPMIYI is a one-day event where youth present their own research and recommendations on how to solve key global challenges in a short speech and small group discussions with other youth and MSU faculty, staff and students. It is held both on the MSU main campus in East Lansing, Michigan, as well as offered virtually. Participants also participate in immersion experiences with MSU faculty and scientists in some of MSU's laboratories and facilities, or dive into immersive, problem-solving discussions online.
As a result of participating in the 2022 event, delegate survey responses indicated the following:
85% agreed or strongly agreed that WFPMIYI was valuable for their growth and development as well as they felt more knowledgeable about career opportunities that they could pursue in the future.
70% were more likely to consider applying to and attending Michigan State University as a result of their World Food Prize Michigan Youth Institute experience.
75% agreed or strongly agreed that they were able to build new relationships and friendships during the program.
Youth delegate comments included:
"I plan to work extremely hard throughout my life to be an advocate for food security issues around the world & in my own community. I also would absolutely love to continue my research & continue to grow my ideas."
"I changed from thinking about this as just an experience to an actual opening for new opportunities and knowledge."
"I asked and answered questions during the discussions. I gave my presentation very well and was able to carry on the discussion with experts afterward.
I talked and communicated with people I didn't know in my immersion groups and made friends."
"Food security issues are linked to so many other issues throughout the world. Social, economic, political; so many things are rooted back to a need for food. I also learned how small I am compared to the rest of the world, but that even though I am small I can make a huge difference."
This annual event usually takes place in early May with registration and paper submission due March 15. Some participants are chosen to then represent Michigan at the World Food Prize Global Youth Institute in Des Moines, Iowa, usually held in October. Think about how this opportunity could enhance the path to YOUR future!
For questions or more information, contact either of the Michigan Youth Institute coordinators: Brian Wibby at wibby@msu.edu or 906-251-1417, or Deb Barrett at smithde6@msu.edu or 269-240-1986.
Michigan State University Extension and Michigan 4-H Youth Development helps to prepare young people for successful futures. For more information or resources on career exploration, workforce preparation, financial education, or entrepreneurship, email us at 4-HCareerPrep@anr.msu.edu.