World Food Prize Michigan Youth Institute 2016
High school youth gather to discuss global food security and access, brainstorm solutions with peers and explore possible career paths with faculty and community experts.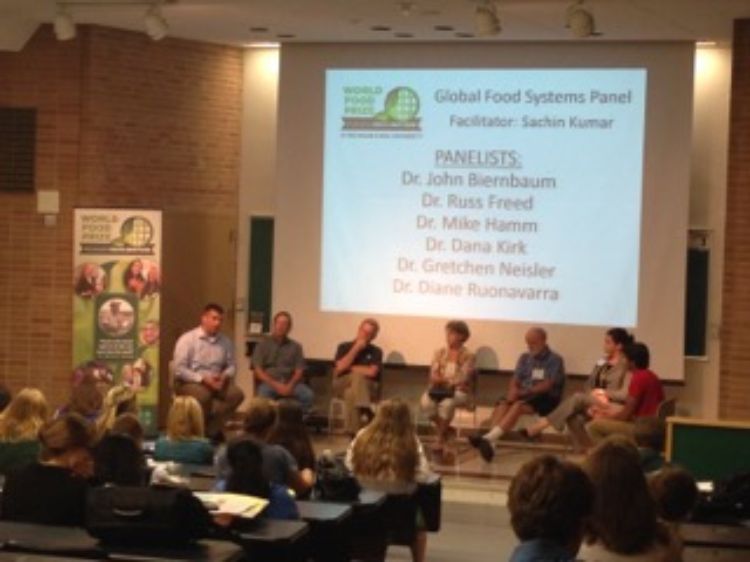 Have you ever wondered what dinner is like in Chile? What about how crops are watered in South Africa, or how war impacts a region's ability to import foodstuffs? Have you ever had the experience of not knowing where your next meal would come from, or really what this would be like if, in fact, you have not personally had the experience? These are just a few questions explored by youth who participate in the World Food Prize Michigan Youth Institute.
Michigan State University Extension (MSU Extension), Michigan 4-H, Michigan FFA and the MSU College of Agriculture and Natural Resources, along with the World Food Prize, make up the team of partners that make the World Food Prize Michigan Youth Institute possible. This free event is offered to all Michigan high school youth with a short, two- to five-page research paper being participant's investment in the experience. The event consists of a variety of activities held throughout one day on the campus at MSU, including speed meetings with various MSU departments, visits to campus sites, labs or facilities and a question-and-answer panel with MSU faculty experts.
Another key component of World Food Prize Michigan Youth Institute is roundtable dialogues between youth participants, faculty and community experts. The papers that youth participants write and submit in advance of the event determine the content for these roundtable discussions. At the event, youth give short presentations in their roundtable groups, highlighting their research on a specific country and a food security factor, as well as their recommendations for solving regional challenges.
Coordinators of the World Food Prize Michigan Youth Institute believe it is vitally important to engage youth both in critical thinking about global issues, and in brainstorming possible solutions. Roundtables are one of the event's approaches to facilitating that engagement, while creating spaces where youth can collaborate and build relationships with peers and faculty they might not otherwise have access to.
There are a couple of really unique aspects of World Food Prize Michigan Youth Institute that make it a special experience for youth. One is the approach the event takes to engage participants in conversations that expand their worldview. At a basic level, youth pick from a list of countries in the world that are developing nations or experience significant barriers to national food security – so not the continental United States. Because global food security and food access are wicked problems (complex systemic problems with no linear solution), World Food Prize Michigan Youth Institute asks youth to go further and select a specific factor to use as a lens to examine food security. The key factors create opportunities for youth who are passionate about a variety of topics to engage in the broader issue of global food security from a perspective that interests them. Factors include but aren't limited to gender and equality, infrastructure, education and water quality.
Additionally, the 2016 World Food Prize Michigan Youth Institute is including two new pre-event aspects the coordinators hope will enhance the educational value and experience for all participants. The first is a two-step registration process. In step one, youth will register and indicate their paper country and factor, and in step two they will submit their completed research paper. Between step one and step two, youth will receive weekly e-newsletters that provide them with artifacts such as articles, websites, and videos that are relevant to World Food Prize Michigan Youth Institute topics.
Youth who register in step one prior to March 11, 2016, will also receive the contact information for a "cultural connector." This cultural connector will be an individual from the MSU community who has relevant experience or expertise in the country the youth participant has indicated they're writing about in their paper. It is the event coordinator's goal that these two efforts may help youth participants to challenge their assumptions and approach their papers with a more holistic and realistic global worldview.
Factors and cultural connectors help youth realize there are diverse perspectives that can influence change in global food security issues. Site visits, speed meetings and the expert panel give participants an opportunity to explore different career paths, along with MSU as a post-secondary education option. The World Food Prize Michigan Youth Institute as a whole is intended to be a space where youth are inspired and empowered to make a difference, and recognize themselves as global citizens.
To register online for World Food Prize Michigan Youth Institute or learn more, visit the World Food Prize Michigan Youth Institute website.