Youth can play an important role in disaster preparedness and recovery
Involving youth in disaster planning and recovery can increase their awareness of hazardous situations that may occur in their neighborhood and teach them how to respond in various types of emergencies.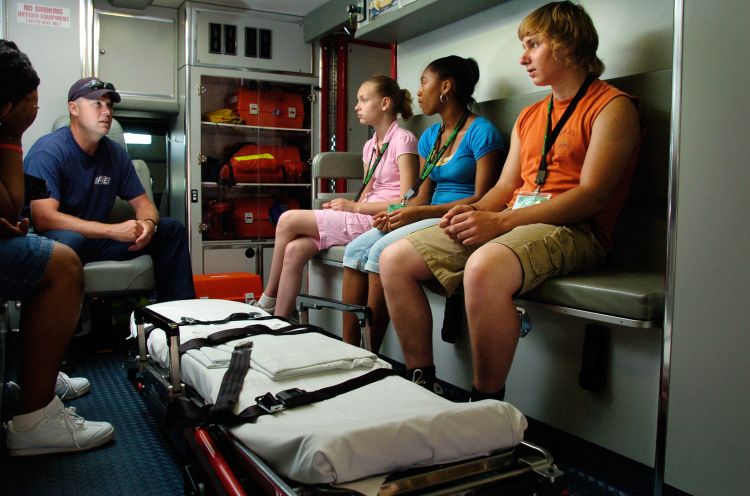 According to the latest U.S. Census data, children under the age of 18 make up nearly 24 percent of the total U.S. population. When a disaster strikes not only adults will be affected but children as well. Special challenges may confront youth during an emergency. They may be separated from their parents, be too young to drive or lack access to a vehicle so that they can join their family, and need to be cared for by adults unknown to them until the disaster abates. At the same time, youth are incredibly resilient and may be able to contribute ideas and actions during a disaster. By involving youth in disaster planning well in advance of an emergency situation, they will be better equipped to respond appropriately and calmly when confronted with an actual event.
Organizations involved in emergency preparedness recognize the importance of directing preparedness efforts at both youth and adults. The Federal Emergency Management Agency (FEMA), the American Red Cross, and the U.S. Department of Education collaborated this past year to produce the National Strategy for Youth Preparedness Education: Empowering, Educating and Building Resilience. Their vision was "creation of a nation of prepared youth". This document identified nine priority actions considered essential to achieve their goal of youth preparedness. Local, state and federal youth-serving groups were urged to become actively engaged partners in this initiative.
Last July, more than 25 private and public sector organizations met for the first time to review the document and brainstorm ways to encourage youth preparedness. As requested in the strategy, these organizations publically affirmed their support of this effort to increase youth preparedness. FEMA's Ready.gov youth preparedness webpage provides a list of organizations who have committed their support. The site also offers suggested steps for starting a community-based program as well as tools and resources to assist in developing and maintaining a youth preparedness program.
The federal government provides several opportunities for youth who want to be directly involved in disaster preparedness and recovery efforts. The Community Emergency Response Team (CERT) program offers special training for teens. The curriculum can be offered in a school setting or via a youth-serving organization. Like the training provided to adult CERT members, youth are trained by certified instructors. The length of the training depends on whether or not youth will be certified in CPR, First Aid, and AED. In some states, 4-H programs are involved in a teen CERT.
The FEMA Youth Preparedness Council is another avenue for youth to contribute their thoughts about youth disaster preparedness. Members attend an annual summit, participate in conference calls, conduct youth preparedness projects of their own choosing in their communities, and advocate for youth preparedness via public speaking and other forms of outreach.
The Citizen Corps program invites both adults and teens to be actively involved in making their communities safer, stronger, and better prepared to respond to emergency situations. Local Citizen Corps Councils have been established to oversee these efforts and coordinate volunteer activities. Each state has a program manager whose name and contact information can be found on the Citizen Corps website. You can also enter your zip code to locate your nearest local council.
Two additional opportunities target older youth, 18-24 years of age. The Americorps NCCC (National Civilian Community Corps) is conducted by the Corporation for National and Community Service (CNCS). It is a residential program with youth assigned to one of five campuses and, as a team, complete service projects in the surrounding region. FEMA Corps is a special FEMA-focused unit of NCCC service corps members whose sole mission is disaster preparedness, response and recovery. Youth 18-24 years of age to spend 10 months performing a variety of activities that can include directly assisting disaster victims, working at disaster recovery centers, and providing disaster preparedness outreach to the public.
It goes without saying that youth have incredible reserves of energy and may bring fresh new ideas to the table that adults have not considered. By including youth in your local disaster preparedness planning and recovery efforts, not only can they help share the message about the importance of disaster preparedness, the skills they develop will continue to serve the community long into their adult years.
To learn about youth development opportunities that your local 4-H program offers, visit the Michigan State University Extension website. Additional information is available at the Michigan 4-H website or by contacting your county Extension office.