Youth foster coastal tourism opportunities in Northeast Michigan (Part 1)
Northeast Michigan schools, through place-based education projects, are demonstrating just how valuable student-led contributions can be in advancing coastal tourism and community development opportunities.
Students from Lincoln Elementary (Alpena Public Schools) have partnered with the Besser Museum of Northeast Michigan tocreate interpretive exhibits showcasing Northeast Michigan's unique geology and fossils. Rogers City Middle School students are studying and writing about threatened and endangered species in Thompson's Harbor State Park in Presque Isle County. High School students at Alcona Community Schools have explored, developed and completed a series of interpretive signs promoting ecotourism opportunities at Negwegon State Park.
These remarkable student-led coastal tourism connected projects serve as wonderful case studies illustrating educational and community opportunities that can result t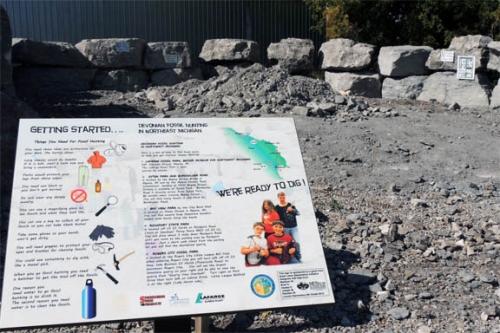 hrough applied principles and best practices of place-based education. These hands-on, place-based learning projects were supported, regionally, through the Northeast Michigan Great Lakes Stewardship Initiative (NE MI GLSI). The NE MI GLSI is a regional network of education and community partners, including the Michigan Sea Grant and Michigan State University Extension 4-H Youth, working together to promote quality place-based education opportunities in Northeast Michigan.
Place-based education represents a teaching strategy where students, while learning, engage in environmental stewardship activities that enhance the communities where they reside. Educationally, teachers from these schools are enhancing youth learning through application of these place-based educational strategies, and the resulting youth-led projects are promoting local resource awareness and stewardship of local coastal resources. These student projects provide valuable real-world learning experiences, while working alongside community partners to accomplish interpretive and educational projects in service of advancing coastal tourism opportunities in Northeast Michigan. Sometimes even, as with some of these project examples, student-led efforts can serve to catalyze valuable community projects that might not otherwise have happened.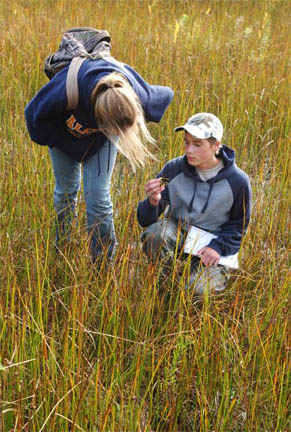 Through their projects, these schools and students are contributing as valued community partners in the development of coastal tourism opportunities in the region. Coastal tourism development opportunities along northern Lake Huron rank high in priority across many Northeast Michigan community planning and development efforts. This is evidenced by many coastal tourism-related research and planning reports, regional marketing and business development initiatives, along with resource management plans. Michigan Sea Grant's recently released Guide for Sustainable Coastal Tourism illustrates, through one case study, just how youth, through place-based learning, can serve in community leadership roles aimed at promoting sustainable coastal tourism development opportunities. This youth-focused case study was recently featured in The Alpena News article, "Connect, Build, and Sustain: Great Lakes Stewardship Initiative creates co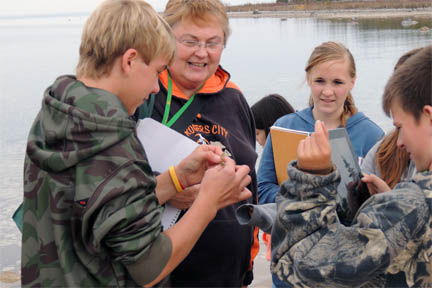 mmunity of environmental leaders."
Schools and youth, communities and our environment stand to collectively benefit when schools and communities collaborate through these types of powerful place-based education partnerships. Stay tuned for Part 2 of this story, which will focus on examples of how communities in Northeast Michigan have positioned themselves to capitalize on these amazing partnerships with youth.
For more information about place-based education and these youth-led coastal tourism education projects and partnerships facilitated through the Northeast Michigan Great Lakes Stewardship (NE MI GLSI) network, visit the website and learn about these projects in action. This network is partner to the statewide Great Lakes Stewardship Initiative with funding from the Great Lakes Fishery Trust.