Youth practice voice in government and bill writing
Teens in Michigan have the opportunity for a hands-on learning experience about state government by attending 4-H Capitol Experience.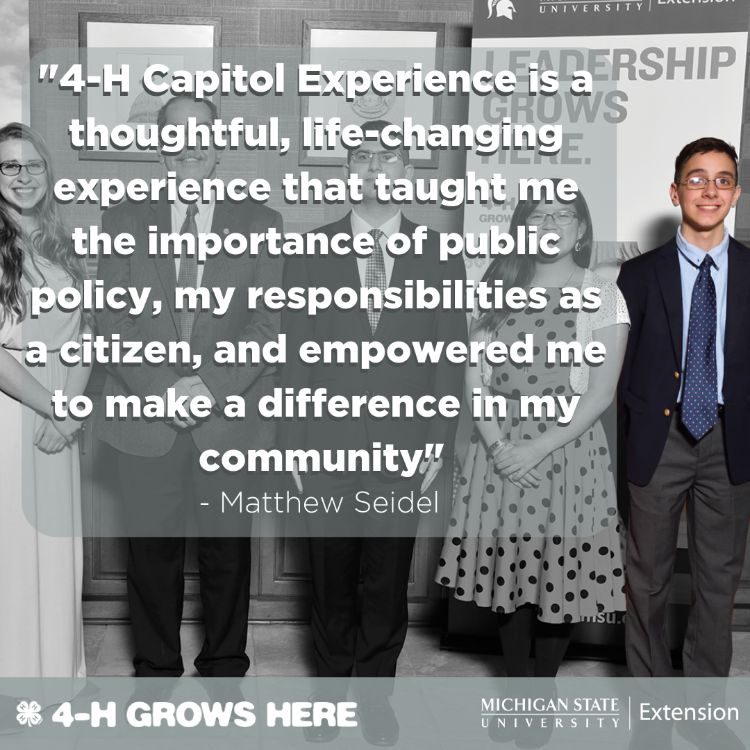 How will government address roads? What options are available for mental health in Michigan? How should we align government services to address the opioid epidemic? What's our response related to cybersecurity threats? What issues are important to schools and the students attending them?
These are just a few options teens can explore at Michigan State University Extension's 4-H Capitol Experience, a four-day conference that focuses on civic engagement and public policy. High school teens from around the state will converge in Lansing, Michigan, March 17-20, 2019, to experience Michigan government in action.
While at 4-H Capitol Experience, participants will work with a group to select a public policy issue and interact with state legislators, various state agency staff, lobbyists and other experts to learn more about their chosen issue topic. Through these interactions, participants will explore careers in public policy, network with teens and professionals from around Michigan and learn about the policy process at the state level and how that affects their individual communities.
4-H Capitol Experience is open to all high school aged youth who are interested in citizenship and how they can make a difference by utilizing their voice. Participants have the opportunity to learn about their local community before the conference by carrying out suggested pre-conference activities, such as working with local government.
4-H Capitol Experience provides an opportunity for youth to engage in genuine and meaningful roles with peers and policymakers. Giving teens the opportunity to voice their ideas, develop their own bills, present their bills to policymakers and other stakeholders, and participate in every stage of the legislative process is a valuable lesson in civic engagement.
Mathew Seidel, previous participant and current steering committee member, said about his experience, "4-H Capitol Experience is a thoughtful, life-changing experience that taught me the importance of public policy, my responsibilities as a citizen, and empowered me to make a difference in my community."
Teens interested in experiencing government in action and being part of a hands-on, experiential learning conference can contact their local MSU Extension office to learn more about the experience or visit the 4-H Capitol Experience website to enroll.