Farm trials
Author: MIchigan State University Extension
Jeff Dwyer interviews Jeremy Beebe, first generation farmer and owner of Double B Dairy, about his experiences with the MSU Institute of Agricultural Technology program, MSU on-farm research trials and farm stress.
September 5, 2019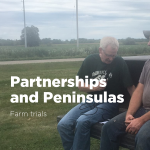 ---
Find out more about Bury Seeds, Not Stress, the free, four-part webinar series that covers a variety of topics, from the mental health stigma facing men to how to incorporate stress-reducing techniques into your day. Sessions are open to farmers, family members, industry workers—anyone who wants to learn more about how to manage the stresses of farming life and support our agriculture professionals.
Farm trials transcript
Jeff Dwyer: Today I'm with Jeremy Beebe, owner and operator of Double B Dairy in Whittemore, Michigan, about an hour North of Bay City. He milks 230 cows and has been a five-time winner of the National Milk Quality Awards. Jeremy is a first-generation dairy farmer and has been an MSU Extension partner for over 10 years in a variety of ways, including hosting corn variety performance trials and educational field meetings. I'm Jeff Dwyer, director of Michigan State University Extension, and this is Partnerships and Peninsulas.
Jeff Dwyer: Thank you for joining me today, Jeremy.
Jeremy Beebe: You're welcome.
Jeff Dwyer: Jeremy, as I said in the opening, you're a first-generation dairy farmer. How did you get into dairy farming?
Jeremy Beebe: One of my first memories as a little boy was riding on my great uncle's lap on his loader tractor on his dairy farm in northern Wisconsin. Ever since then, I've always wanted to be around dairy cows. Growing up in high school, helped out on the neighbors' farms, and that's kind of where it... Well, and then with my uncle, great uncle, the whole family over there, they've been dairy farmers since the late 1890s.
Jeff Dwyer: Wow.
Jeremy Beebe: Yeah, that's kind of where it all began.
Jeff Dwyer: Well, that's a great history and we're sitting out here on your farm right now. You graduated from MSU two-year Institute of Agricultural Technology program. How do you think that helped to prepare you for beginning to farm and where you are today?
Jeremy Beebe: Well, that program was tremendous, Ag tech, and Joe Domecq was just terrific. What that really did is that laid the groundwork for networking, learning to communicate with other people. A lot of the relationships that I formed back then, I still hold dear today.
Jeff Dwyer: That's terrific. So as you and I were talking about a few minutes ago, it's been difficult in the dairy industry in recent years and it's going to continue to be for a little while. And you're a first-generation dairy farmer, which I'll be honest, in my travels around the state I don't come across very often in the last few years. Tell me about what might be some of the challenges for a first-generation farmer, someone who has to get into this from the very beginning?
Jeremy Beebe: Well, a couple of things. The first one, I would guess that a lot of multi-generational farms probably don't have a big land mortgage payment like I have. That's been tough. I've been fortunate to have help along the way from my parents with those sorts of things. Another thing is the first five years of dairy farming on my own, my wife I were the only ones there to do it. Since then, we've grown and I've added employees, but way back it was big mortgage payments and a lot of work.
Jeff Dwyer: And you were explaining to me a little earlier, your dad farms out here and your brother is nearby, so you are able to share equipment and some other things while you're separate farms. What are some of the other benefits that come from having your dad and your brother farming nearby?
Jeremy Beebe: Just that exactly, sharing equipment. By the three of us combined farming 1700 acres, that justifies us to have larger equipment. We can get over the ground faster. We share labor back and forth. It's those types of things.
Jeff Dwyer: We have certainly enjoyed a relationship with you through MSU Extension for a very long time. We're out here with Phil Durst and you work with Stan Moore and Faith Cullens and a lot of other people. How have they helped you over the years in developing your business and looking at new ideas and new things you might try out here on the farm?
Jeremy Beebe: Well, the one thing about Extension, since its inception, has been just the unbiased opinion that people in Extension can give you. They have no interest other than to see you succeed. They help you figure out the best management practices and best products to use without ever caring which brand of tractor you drive or what kind of feed you feed.
Jeff Dwyer: I learned earlier that you and Phil are in regular contact. You can email him, text him, give him a phone call whenever you need it.
Jeremy Beebe: Yep, that's right. Yeah, Phil and I have been friends for 20 years and he's a great dairy agent and a great educator and a really great friend.
Jeff Dwyer: Well, that's really terrific. One of the ways, as I mentioned at the outset, that we work together is on corn variety performance trials. Some of our listeners, like me, don't have an agriculture background. Can you tell us a little bit about what those trials are?
Jeremy Beebe: Bill Widdicolme and Lori Williams at campus, they head it up. And any seed corn company that wants to have their different varieties in the research plot out here give their seed samples to Bill and Lori and they plant them out here. And it's just to prove the yields and prove the feed quality of them, again, in an unbiased setting where all the varieties are under the same conditions, just to get a true, honest evaluation of what those corn varieties can do, whether it's silage or grain.
Jeff Dwyer: As you know, I have the privilege of being the director of MSU Extension. And the history of extension is to bring the experience and expertise and programming of a great land-grant university like Michigan State out to communities all over the state. And I think the trials, like you just described, are a really great example of something that we can do together that we couldn't do separately.
Jeremy Beebe: Oh, absolutely.
Jeff Dwyer: Jeremy, you've won five National Milk Quality Awards, and in 2018 you and your wife, Deanna, were the runners up for the Michigan Milk Producers Association Young Dairy Cooperator of the Year award. Tell us what these achievements mean to you and your family, and maybe start with what does it take to make particularly high-quality milk?
Jeremy Beebe: Well, to make high-quality milk, first of all, it's a choice that you have to decide to make. And then after that, it's conveying that to your employees or whoever's milking the cows or taking care of them. And then along with that goes just the pride of doing a good job, of doing the right job day in and day out consistently. But it's a mindset, it's a choice that you have to make.
Jeff Dwyer: And these awards must just be a source of pride for you and your whole family.
Jeremy Beebe: Oh, absolutely. Yep, absolutely. When I won the first one, it actually took my breath away.
Jeff Dwyer: That's really terrific. I can see it on your face now. So one of the topics you and I had the chance to talk about earlier was it's been a difficult few years in dairy and certainly there are financial implications, certainly there are lots of things that folks have worried about. But it's been a particular concern around how people are coping with some of the challenges. As you know, in an MSU Extension more recently, we're doing some work in mental health and behavioral health, trying to work with those in agriculture and farmers and farm families around their mental health and management of stress and those sorts of things. Can you talk a little bit about what that means for you and why you think that's important for the industry?
Jeremy Beebe: Well, one thing is for sure, we're now on the fifth year of depressed milk prices. And the psychological impact that that's had on people is just horrible. I mean, if you could see me right now, you could see me patting my belly, and that's from stress. I get upset and I eat. And I know stress bothers people in lots of different ways. That's one way it bothers me. There's a lot of other ways that people aren't so willing to be open about or even realize themselves. So Extension can do anything to help people to get to open up so we can talk about these problems, because it is a big deal. We need to have healthy minds, and it's really hard to have a healthy mind in the conditions we've been in for such a long period of time.
Jeff Dwyer: Well, and I think one of the things we all experience but often don't acknowledge is that when we're under significant stress, it's even difficult to have a good decision-making context because we have lots of things on our minds at one point of time. We've worked with you for a very long time, as you've built this farm into this lovely environment. You're making it through this difficult period. What are some of the things you think perhaps MSU Extension could be thinking about in the future as hopefully dairy prices get a little bit better and people are going to consider next steps and things like that? How might we be able to help you as things continue on?
Jeremy Beebe: One thing I would really like to see is Extension to help with getting farmers and campus staff back together. There's become a huge disconnect in the last several years and we need some help getting reconnected with everybody on campus. There's lots of knowledge that can flow both ways. We need to get that back, get that back together.
Jeff Dwyer: Well, Jeremy, thank you very much for taking time to talk with me today. I know, when I drove up today, you were out with your loader and I'm sure you've got a list of other chores you got to get back to here on a beautiful, a little cloudy but still beautiful, afternoon. But thank you very much for taking time to talk with me today.
Jeremy Beebe: You're welcome, Jeff. Thank you very much for having me.
Jeff Dwyer: It's been great talking with Jeremy and learning from his experiences today. And it's important to me, along with all of my colleagues at MSU Extension who work alongside farmers, that we recognize all that farmers do. I had the opportunity just a couple of days ago to give testimony at the joint House and Senate hearing in Lansing, and what I was asked to talk about was farm stress. And I think that that's important because that's not something I would have been asked to talk about in other years. I would've been asked to talk about a particular commodity or something like that. And so one of the things we want our listeners to know is that MSU Extension has been building a suite of resources over the past few years to help farming professionals take care of their mental health.
Jeff Dwyer: We're happy to announce that our latest resource, a free, four-part webinar series called Bury Stress, Not Seeds, is now available. To find out more about this series, visit extension.msu.edu and search Bury Seeds, Not Stress. My name is Jeff Dwyer and I have the privilege of being the director of MSU Extension, and we've been out here on the Beebe farm with Jeremy. Thank you very much.
Jeremy Beebe: Thank you.