Diagnostic Services
MSU Plant & Pest Diagnostics
Deals with all sorts of plant diseases and pest issues, but a car hood? Shipped from an assembly plant in Michigan, the auto part had serpentine streaks on it after going through the painting process. Workers at the facility, which used an open outdoor tank for water storage, suspected that the flaws were from a filtration issue but had difficulty pinpointing the culprit.
Enter MSU nematologist Fred Warner and entomologist Howard Russell, who examined the hood when it arrived at Diagnostic Services. After learning of the water tank, the researchers requested a water sample that yielded a result both were expecting.
"It was teeming with nematodes — microscopic worms — and a bunch of other debris," said Warner, a 30-year veteran at MSU. "We've encountered some interesting things over the years, but dealing with cars was very unusual. I measured the organisms and learned that the plant had replaced filters in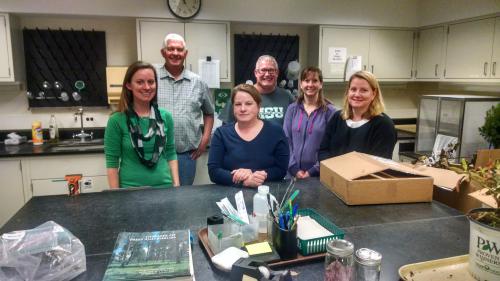 their lines to use ones with larger pores because the filters clogged too frequently. That obviously contributed to the situation."
Tucked in the Center for Integrated Plant Systems building on the south side of the MSU campus, Diagnostic Services is a one-stop diagnostic destination. It assumed its current form in 1999, when Project GREEEN (Generating Research and Extension to meet Economic and Environmental Needs) united the Arthropod/Insect Diagnostic Lab, the Nematode Diagnostic Service Lab and the Plant Disease Clinic under one roof.
"Having the backing from Project GREEEN and MSU Extension is critical," said Ray Hammerschmidt, professor of plant pathology and the lab's faculty coordinator. "The true beauty is in the multidisciplinary approach. When plant samples come in, it's not always immediately obvious what the problem is.
"By having all of the plant pest disciplines in one lab, the diagnosticians can more efficiently determine whether it's an insect, nematode, plant pathogen, a herbicide/weed problem or even a combination of several problems. Having multiple sets of eyes is great, and it's a huge advantage to the diagnosis. Oftentimes, plants are susceptible to more than one of these issues."
That integration streamlined evaluation procedures and speeded up the resolution. Previously, if a nematode submission was sent to the entomologist, it would take time to get it to the correct venue. Greater efficiency has allowed MSU Diagnostic Services to investigate several thousand more samples per year than similar programs around the country.
The lab accepts plants, plant tissue, insects, soil and weeds, including physical samples for in-depth analysis and photos for identification submitted via email. Services not offered are soil and plant nutrient testing, mushroom identification, testing of household mold or pesticide residue, and examination of bites or skin irritation on humans or animals.
Funding from
keeps customer costs low, despite the large scale of the operation.
"We have four diagnosticians and two technical support staff members, making us the biggest of the land-grant labs," Hammerschmidt said. "Most have one or two full-time diagnosticians. Diagnostic Services has been extremely valuable to many stakeholders, such as growers, homeowners, industry organizations, nursery and landscape professionals, etc. We are diagnostic and advisory, so not only do we do a diagnosis, we offer solutions. It really helps to close the loop, and not many other places do that."
Expanding its reach even further, MSU Diagnostic Services is a member of the National Plant Diagnostic Network (NPDN), which provides backing to labs across the country. NPDN, supported by the U.S. Department of Agriculture National Institute of Food and Agriculture, divides the nation into five regions, each having a hub location. MSU serves as the hub of the North Central Plant Disease and Pest Diagnostic Network (NCPDN). Hammerschmidt is executive director of the NPDN and director of the NCPDN.
Working together
In 2015, more than 8,000 submissions from 79 Michigan counties and 22 states were sent to MSU Diagnostic Services, the most that the six-member crew has ever seen. Roughly 75 percent were for nematode analysis,
mostly from agriculture organizations, industry groups and growers.
When specimens arrive, they are initially vetted by Jackie Smith, a diagnostic technician. She enlists the help of one or more staff members to perform an assessment. Warner and technician Angela Tenney, handle the nematodes. Also lending expertise are Russell (insects and other arthropods); Jan Byrne, a plant pathologist; and the newest scientist to join the team, Erin Hill, a weed diagnostician and cover crop specialist.
"During the planting and growing seasons, we see a huge influx of samples," Byrne said. "These are largely from agriculture-related organizations or county extension offices, but we get a fair number from homeowners wanting to identify a plant or insect."
The lab contains offices for each team member, as well as space to conduct testing and a "triage" area, where multiple diagnosticians can analyze samples to determine the appropriate course of action. Techniques deployed by the group include bioassays, biochemical tests, culturing, microscopy, molecular analysis, serology and visual observation.
A soil processing room, used almost exclusively by Warner and Tenney for nematode cases, is located next door. Warner said that he spends most days working with soil under the microscope and creating reports.
"We have a saying that if you take a diagnostician away from a microscope, diagnostics don't get done," Warner said. "So that means we don't do many site visits. Sometimes that can be beneficial, but we are on campus most of the time. Given the number of samples we get, we need to be here so we can provide solutions to people as quickly and effectively as possible."
For more information about MSU Diagnostic Services, visit pestid.msu.edu.