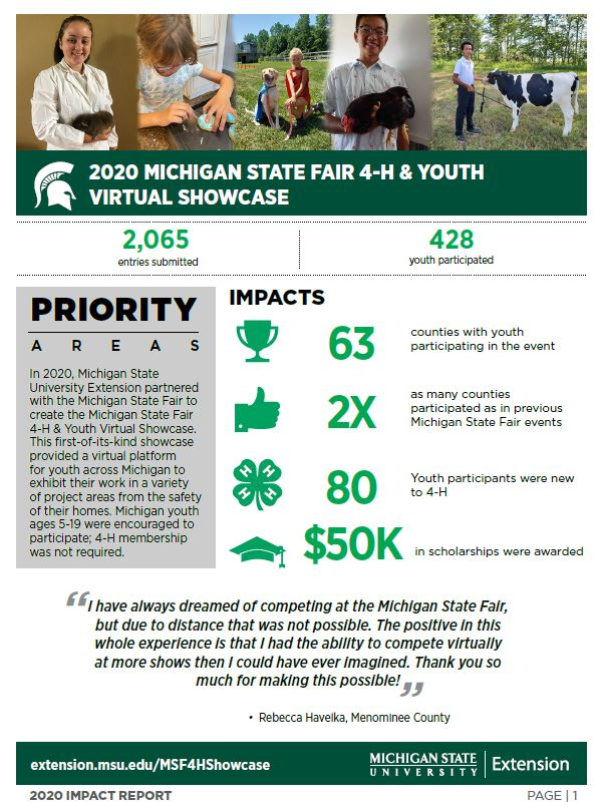 2020 Michigan State Fair 4-H & Youth Virtual Showcase
DOWNLOAD FILE
December 11, 2020 - Author: MSU Extension
PRIORITY AREAS
In 2020, Michigan State University Extension partnered with the Michigan State Fair to create the Michigan State Fair 4-H & Youth Virtual Showcase. This first-of-its-kind showcase provided a virtual platform for youth across Michigan to exhibit their work in a variety of project areas from the safety of their homes. Michigan youth ages 5-19 were encouraged to participate; 4-H membership was not required.
2,065 entries submitted
428 youth participated
63 counties with youth participating in the event
2X as many counties participated as in previous Michigan State Fair events
80 youth participants were new to 4-H
$50K in scholarships were awarded
"I have always dreamed of competing at the Michigan State Fair, but due to distance that was not possible. The positive in this whole experience is that I had the ability to compete virtually at more shows then I could have ever imagined. Thank you so much for making this possible!"
-Rebecca Havelka, Menominee County
Learn more on the Michigan State Fair 4-H & Youth Virtual Showcase website.