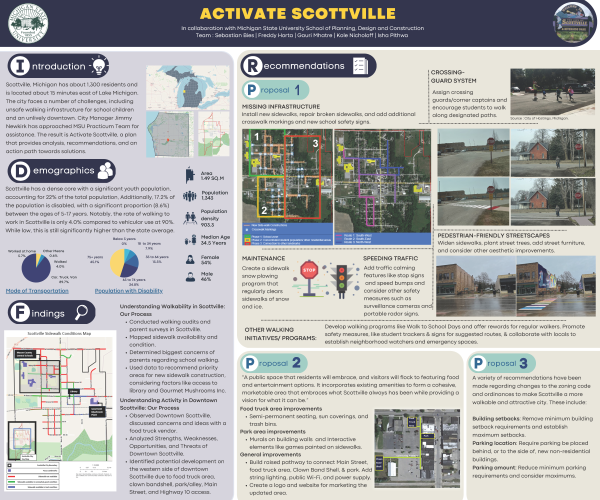 Activate Scottville: Walkable Scottville Plan and Lively Downtown Plan Executive Summary and Poster
DOWNLOAD
June 14, 2023 - Author: Sebastian Bies, Freddy Horta, Gauri Mhatre, Kole Nicholoff, Isha Pithwa
As the name suggests, the Walkable Scottville Plan focuses on improving walkability in Scottville. This centers around improving pathways for children to access school but also considers other local priorities such as access to the library and Gourmet Mushrooms Inc. This plan sets priorities for building and maintaining walking infrastructure (i.e., sidewalks, crosswalks, and signage) in Scottville and establishes the need for non-infrastructure items such as school crossing guards and neighborhood watch programs. Suggested funding opportunities are detailed in the Appendix to make the plan as implementable as possible. Primarily, this means Safe Routes to School grants, but various other pathways, and immediate steps to work towards them, are detailed in the report.
The Clowntown Scottville Plan aims to improve activity levels in downtown Scottville by capitalizing on existing amenities, improving them, and marketing them. Proposals include adding Wi-fi, permanent seating, sun covering, trash bins, and lighting to the food truck area, painting murals and interactive games in the downtown alleyway/park area, and most ambitiously, connecting both areas to the Scottville Clown Band Shell, Main Street, and State Street with a raised walking pathway. This will physically unify these amenities and create a cohesive, walkable downtown district with dining and entertainment options. The area will be branded "Clowntown Scottville to support the growth of this district and celebrate Scottville's unique history. This will include a sign that provides visibility from the highway and a logo and website advertising the area. With these combined efforts, the food truck area will grow in popularity, bolstered by the opportunity for events at the Scottville Clown
Bandshell. Clowntown Scottville will become an attraction for locals and regional visitors alike. Like Proposal 1, the Clowntown Scottville Plan includes funding recommendations. These are primarily low-cost proposals, many of which may be fulfilled through volunteer work. However, a variety of grant opportunities are also suggested.
Finally, the Zoning and Ordinance Recommendations make up the final proposal. These suggested changes to the city codes are aimed at long-term change for Scottville that will make the area more walkable and attractive over time. These include reducing parking minimums, considering parking maximums, and requiring operable doors on the sidewalk side of all new buildings.
The MSU-Scottville Practicum Team would like to thank the parties who have provided information and insights invaluable to crafting this report. For the opportunity, we would like to thank the City of Scottville, Michigan State University's School of Planning, Design, and Construction, particularly our practicum instructors.
Practicum is supported by our community clients and through generous financial assistance from Michigan State University Extension and the Regional Economic Initiative grant received from the United States Department of Commerce-Economic Development Administration. The statements, findings, conclusions, and recommendations are solely those of the authors and do not necessarily reflect the views of Michigan State University or any federal or state agency.
Specifically, we would like to thank:
Jimmy Newkirk, City Manager - City of Scottville
Jeff Mount, Superintendent -Mason County Central School District
Angela Taylor, Director of Compensatory Education and Migrant Education - Mason County Central School District

Dr. Zenia Kotval, Ph.D., FAICP, Professor and Program Director, Urban and Regional Planning - Michigan State University

Katharine Merritt, MURP, Instructor, Urban and Regional Planning - Michigan State University
Josh Gunn, Ph.D., Instructor, Urban and Regional Planning - Michigan State University
The statements, recommendations, and conclusions derived from this practicum project are solely those of the respective authors. They do not necessarily reflect the views of Michigan State University, City of Scottville, or Mason County Central School District.