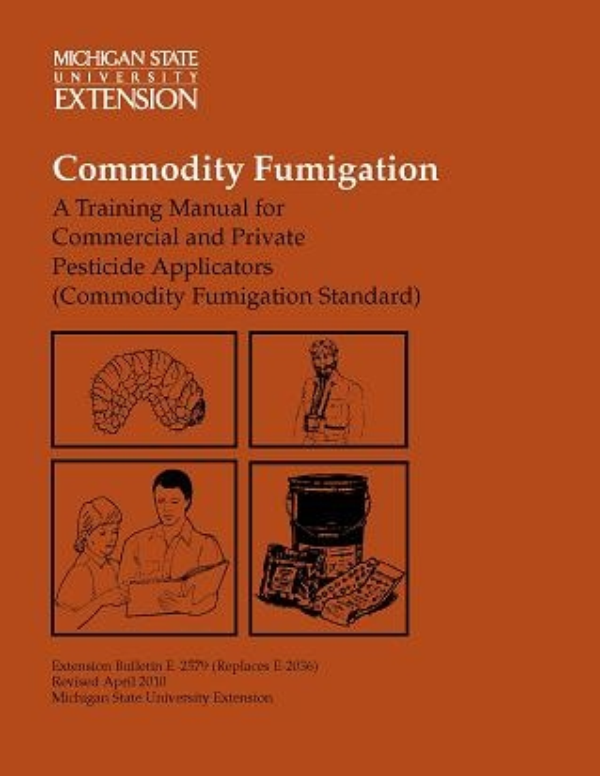 Commodity Fumigation: Training Manual, Commercial and Private Applications (E2579)
November 11, 2015 - Author: Joy Landis
Order Information
To order training manuals, go to https://npsecstore.com/pages/michigan
INTRODUCTION
Certification and Application Fumigant
To apply fumigants to commodities, you must be a certified commercial or private pesticide applicator. In addition, you also must be certified in the commodity fumigation standard. This book is the study manual for those preparing to take the commodity fumigation standard exam.
Never Fumigate Alone
Many fumigant labels require that two trained persons work together during the application. Even if the label does not require a team of two people, we urge you never to fumigate by yourself because fumigants are highly toxic gases. Another person who is equipped with safety gear and understand s how fumigants work should be present in case you need emergency assistance.
Fumigants and Integrated Pest Management
In Michigan, we encourage those who work with pest management to use an IPM (integrated pest management) approach. Some plant pest quarantines will require fumigation for certifying that commodities are free from certain pests. However, in most cases, fumigation should be the last resort of an IPM program.
IPM uses all available tactics or strategies to manage pests to achieve acceptable yield and quality economically and with the least disruption to the environment. IPM is a systematic approach that considers and uses all reasonable methods to avoid pest problems. It combines the control or suppression procedures that best suit the particular situation. It is a holistic approach that removes causes rather than just treating symptoms.
Your efforts will achieve lasting success when you control the reasons for the infestation. Several types of interventions are usually more effective than only one type when they are coordinated well. Cost effectiveness is another major consideration that knits together an IPM program. It must be considered over the long term as well as the short term.
IPM decides if intervention is needed and:
When it is needed.
Where it is needed.
What intervention is needed.
Fumigation is but one highly specialized procedur e of IPM. Fumigants kill most pests. Rodents, bats, birds, insects and other related arthropods will be killed during a fumigation job if they are on the site. You should have an IPM program that:
Identifies the pest accurately.
Identifies ways to prevent pest entry.
Denies access to food, water and harborage.
Monitors all areas of the facility regularly.
Then assesses the best options to control the pest.
This approach enhances your ability to provide effective service to your client or your own operation.