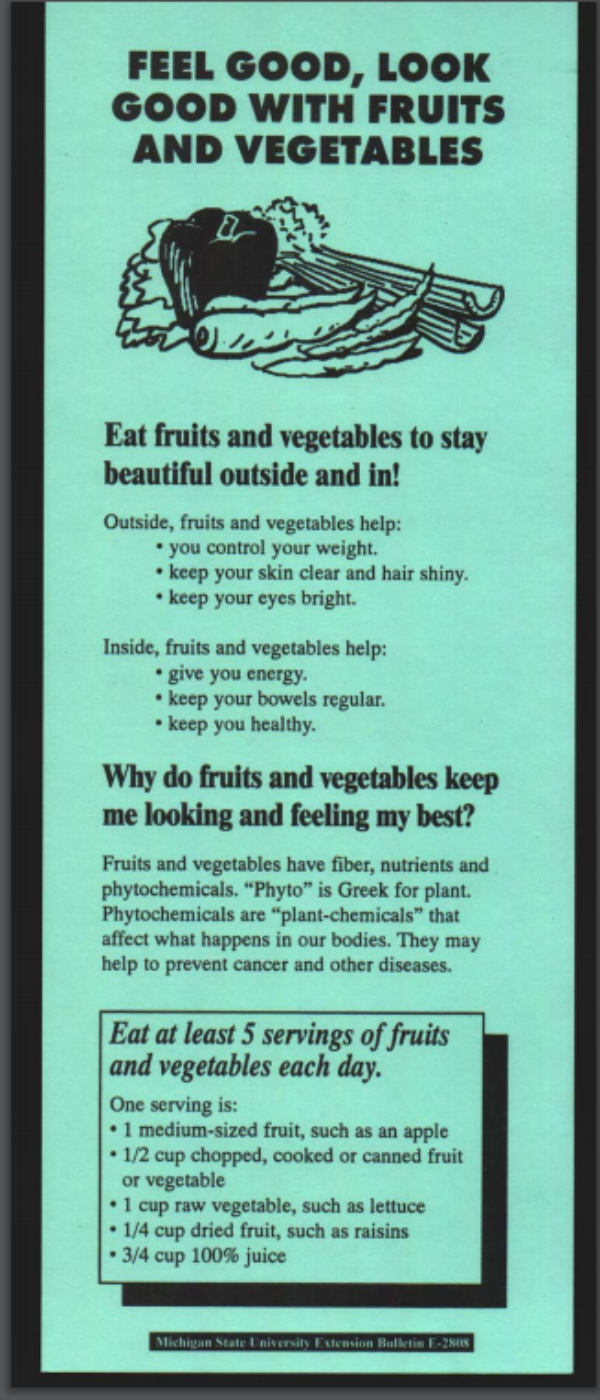 Feel Good, Look Good with Fruits and Vegetables (E2808)
DOWNLOAD FILE
September 14, 2016 - Author: G. Coleman
Feel Good, Look Good with Fruits and Vegetables
Outside, fruits and vegetables help:
you control your weight.
keep your skin clear and hair shiny.
keep your eyes bright.
Inside, fruits and vegetables help:
give you energy.
keep your bowels regular.
keep you healthy.
Why do fruits and vegetables keep me looking and feeling my best?
Fruits and vegetables have fiber, nutrients and phytochemicals. "Phyto" is Greek for plant. Phytochemicals are "plant-chemicals" that affect what happens in our bodies. They may help to prevent cancer and other diseases.
Eat at least 5 servings of fruits and vegetables each day.
One serving is:
1 medium-sized fruit, such as an apple
1/2 cup chopped, cooked or canned fruit or vegetable
1 cup raw vegetable, such as lettuce
1/4 cup dried fruit, such as raisins
3/4 cup 100% juice
Eat a variety of fruits and vegetables to get a variety of nutrients.
For example:
Orange and dark green leafy vegetables are loaded with vitamin A.
Citrus fruits are full of vitamin C.
Fruits and vegetables contain a variety of nutrients. They even have fiber and phytochemicals you can't get from vitamin pills.