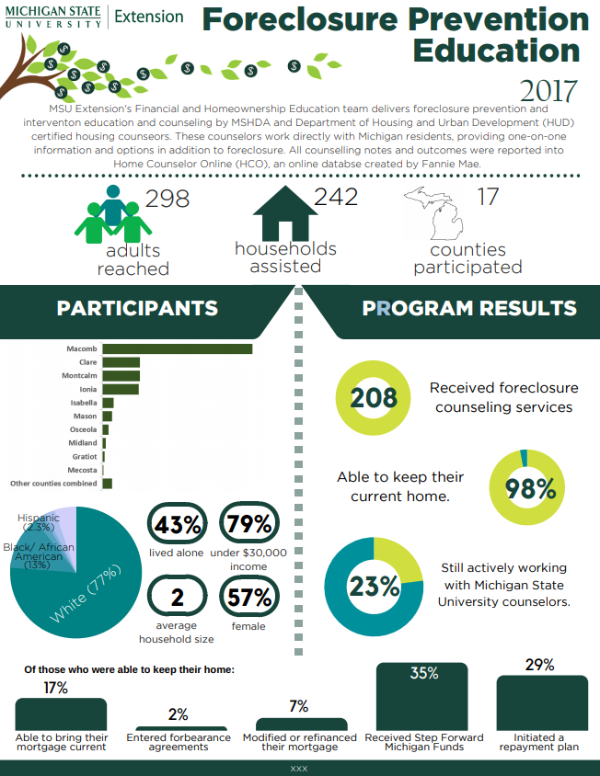 Foreclosure Prevention Education Impacts 2017
DOWNLOAD FILE
January 1, 2018 - Author: MSU Extension
MSU Extension's Financial and Home Ownership Education team delivers foreclosure prevention and intervention education and counseling by MSHDA and Department of Housing and Urban Development (HUD) certified housing counselors. These counselors work directly with Michigan residents, providing one-on-one information and options in addition to foreclosure. All counselling notes and outcomes were reported into Home Counselor Online (HCO), an online database created by Fannie Mae.
In 2017, our team reached 298 adults, assisted 242 households and had residents of 17 counties participate in programming.
There were 208 individuals who received foreclosure counseling services, with 98 percent of those able to keep their current home. As of the reporting period, 23 percent were still actively working with MSU Extension counselors.
Participant demographics included 77 percent white and 23 percent non-white. Seventy-nine percent of participants had income under $30,000, 43 percent lived alone and 57 percent were female.
Of participants who were able to keep their home, 17 percent were able to bring their mortgage current, 2 percent entered a forbearance agreement, seven percent modified or refinanced their mortgage, 35 percent received Step Forward Michigan funds, and 29 percent initiated a repayment plan.