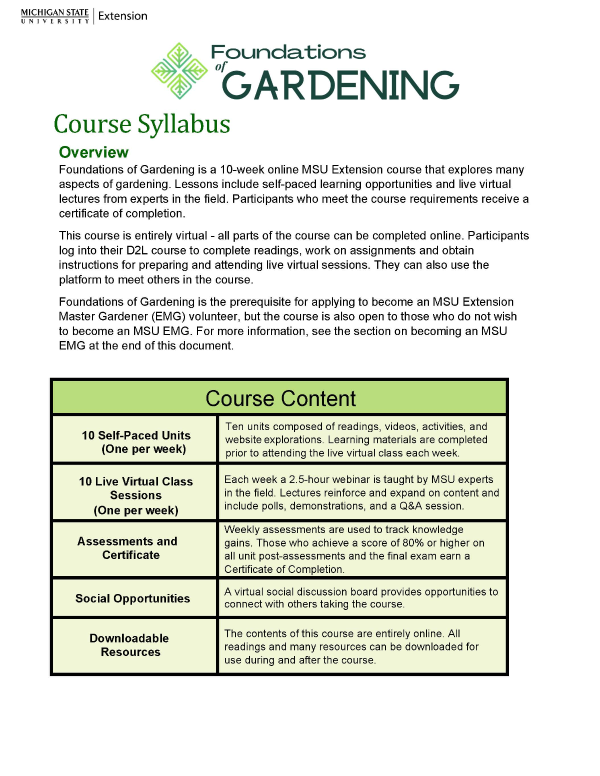 Foundations of Gardening Syllabus
DOWNLOAD
July 26, 2023 - Author: Sarah Rautio, Michigan State University Extension
Overview
Foundations of Gardening is a 10-week on-line MSU Extension course* that explores many aspects of gardening. Lessons include self-paced learning opportunities and live virtual lectures from experts in the field. Participants who meet the course requirements receive a certificate of completion.
This course is entirely virtual — all parts of the course can be completed online in a learning system called D2L. Participants log into the D2L to work on assignments and obtain instructions for preparing and attending live virtual sessions, and they can also use the platform to meet and greet others in the course. This course uses a teaching model called "flipped classroom," which means there are many tasks that a participant completes on their own prior to attending the live virtual classes.
The following topics are covered in this course:
Plant Science for Gardeners

Soils and Plant Growth

Plant Propagation

Entomology for Gardeners

Plant Diseases, Pests, and Problems

Smart Lawncare

Gardening with Flowers

Trees and Shrubs

Growing Fruits and Vegetables

Environmental Gardening
*This is not a Michigan State University Extension Master Gardener® training. Foundations of Gardening is open to everyone. It does not require a participant to later pursue the additional steps for becoming an MSU Extension Master Gardener volunteer unless desired. Please read the "Is this course right for me?" section for more information.
Course Content

10 Self-Paced Units (One per week)

Each unit is composed of several lessons, each with readings, videos, activities, and website explorations. All lessons should be completed prior to attending the live virtual class for that week.

10 Live Virtual Class Sessions (One per week)

Each week, participants attend a 2.5-hour webinar taught by 1-2 experts in the field. Instructors use this time to reinforce and expand on a unit's content using lectures, polls, and demonstrations, followed by a question-and-answer session.

Assessments and Certificate

Weekly assessments are used to track your knowledge gains. Those who achieve a score of 80% or higher on all unit quizzes and the final exam earn a Certificate of Completion.

Social Opportunities

This course includes a virtual social discussion board that provides opportunities to connect with others taking the course.

Downloadable Resources

The contents of this course are entirely electronic. All readings and many of the resources can be downloaded on your own computer for use during and after the course.
Course Expectations
Accessing the course
After payment for the course is complete* and a participant is enrolled in the course, the course will be visible, but contents will not open until the official start date. Once the course opens, participants can see the first unit and begin steps to complete it. This will repeat for all ten units. At the completion of the course, course materials will be available for an additional 30 days, at which time access to the course will end.
*Course refunds will not be given after August 25.
I

ntroductory

s

ession
One week prior to the start of class, there will be an optional live zoom meeting to help students become oriented to the content and structure of the course. This is an optional session that can be helpful to those unfamiliar with on-line courses and/or those unfamiliar with courses that require significant work prior to attending weekly live virtual classes.
Pre-

a

ssessments
Each unit begins with a pre-assessment (quiz) that will measure a participant's current knowledge. The pre-assessments are not graded; therefore, it is important that they be taken without seeking out answers. When the pre-assessment is complete, the unit's learning components will open.
Attend

ance

at

the live virtual class
The live virtual class reinforces what was learned in the self-paced pre-work by exploring some of the more complex topics in that unit and applying concepts. It is an integral part of the Foundations of Gardening course; therefore, students are expected to attend all ten live virtual classes. Recordings will be available when circumstances make it difficult to attend. Each live virtual class will be led by 1-2 experts in the field and will include a question-and-answer session at the end. After each live virtual class ends, the expert(s) will be available to answer questions via email for one additional week.
Post-assessment and access to

the next unit
Immediately after a live virtual class ends, the unit's post-assessment (quiz) will open. This is the assessment that is graded. Upon completion of the post-assessment, a participant will immediately gain access to the materials for the next unit and can begin pre-work for that unit. This process will be repeated for ten weeks.
Course completion and certification
To receive a certificate, a student needs to earn a minimum of 80% on all unit post-assessments and the final. Those who do not receive an 80% or higher score can continue to participate in the course but will not receive a certificate. All course materials can be used when taking the post-assessments and the final, with two submitted attempts allowed for each quiz, and one attempt for the final. Certificates are awarded one time only and are not part of any annual recertification program.
Is this course right for me?
This course may be a good fit for you if:
You are interested in learning about science-based gardening concepts for personal and professional reasons.

You are comfortable learning in an on-line environment.

You have weekly time available for ten straight weeks. Self-paced work averages 5-10 hours and the live session is 2.5 hours. Evaluate whether you have that time prior to signing up. Course contents open weekly, not all at once, hence the need for regular weekly time.

You have access to a computer with the technology requirements listed below.
Technology

r

equirements
This course will have links to other websites and documents, some of which are in PDF format. It is recommended that you have the latest version of Adobe Acrobat Reader installed on your computer. The webinars use Zoom, a free video conferencing service. Instructions on how to download and use Zoom will be posted on the main page of the Foundations of Gardening course.
For those interested in the

MSU Extension Master Gardener Program

*
If you are a participant who is interested in later applying to become an MSU Extension Master Gardener® (EMG), it is important to know that "Foundations of Gardening" is the pre-requisite gardening course needed in the application to become an MSU EMG. For questions about the process to become an MSU EMG, contact MSU Extension staff for more information. Do not start any of the steps below until you receive guidance from MSU Extension staff.
*If you are not interested in becoming an MSU EMG, you can still take the Foundations of Gardening course for the certificate and disregard the information in this section.
Items needed to become an MSU Extension Master Gardener include:
A Certificate of Completion from "Foundations of Gardening" (valid for three years).

Completion of the MSU Extension Volunteer Screening Process and acceptance as an "Active Gold" volunteer (please do not initiate the screening process on your own).

Enrollment and completion of an MSU Extension Volunteer Onboarding Course (availability varies by location – openings will be posted on the MSU Extension Master Gardener webpage).

Completion of 40 volunteer hours on an approved MSU EMG project within one year of completing the MSU Extension Volunteer Onboarding Course.
Contacts
Questions related to the MSU Extension Foundations of Gardening Course: MSUE.FOG@msu.edu
Questions related to the MSU Extension Master Gardener Program: MSUE.MG@msu.edu