FSP at AAEA 2018 in DC
August 5, 2018 - Author: Elisabeth Paymal
By Paymal, Elisabeth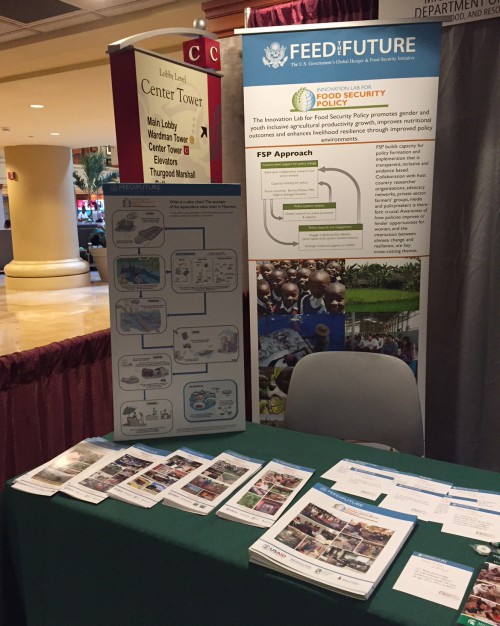 Leadership and Awards
Thomas Jayne, FSP C4a Principal Investigator, is named AAEA Fellow, receiving the highest recognition of the Association.
AAEA African Section: Past Chair: Saweda Liverpool-Tasie, FSP Nigeria Agricultural Policy Project; upcoming Chair: Thomas Jayne
Schedule
Monday, August 6
Stephen Morgan, Nicole Mason, Bob Myers, and Rob Shupp will speak on "Agricultural Innovation and Sustainable Technology Adoption: Strategic Delay Reconsidered," at the Lab-in-the-Field Experiments Identify Approaches to Motivate Producer and Consumer Decisions that Generate Private Benefits and Environmental Public Goods track session at 10AM in the Harding Room.
David DeYoung will present "Profitable but Vulnerable: Assessment of the Nicaraguan Bean Seed Enterprises Using Duration Analysis," at the Risk and Insurance presentation session at 10AM in Washington 4.
Jarrad Farris, Songqing Jin, Mywish Maredia, and Maria Porter will present "Assessing Heterogeneity in the Child Growth Impacts of In-Utero Rainfall Shocks in Rural Rwanda," at the Health, Nutrition, and Education in Rural Context presentation session at 1PM in Park Tower 8228.
Thomas Jayne will be recognized as a Fellow of the AAEA at the ceremony at 6PM in Salon 2.
Tuesday, August 7
Titus Awokuse is the organizer for the Growing Gulf between Grad and Undergrad Programs in Agricultural Economics panel track session at 10AM in the Hoover Room.
David Ortega and Wen Lin will present, "A Bayesian Approach to Modelling the Effects of Information on Consumer Acceptance of Biotechnology in Animal Products," at the Economics of Genetically Modified Organisms presentation session 4:45PM in Roosevelt 3.
Vincenzina Caputo and Nicole Mason are organizers and David Ortega is a discussant at the Recent Developments in Using Choice Experiments to Elicit Producer and Consumer Preferences in Africa track session at 4:45PM in Roosevelt 2.
Posters and Exhibition booth
FSP has exhibitor's booth #2, near the conference registration table, shared with MSU Food Security Group and MSUAFRE Department.