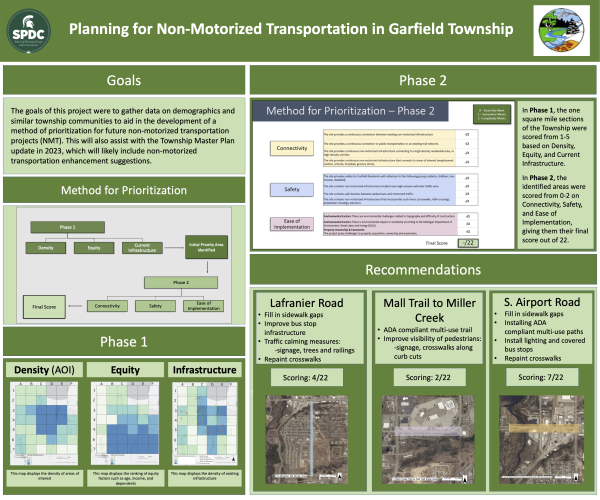 Garfield Township Non-Motorized Transportation Plan Executive Summary and Poster
DOWNLOAD
August 16, 2022 - Author: Zack DiStefano, Toby Hayes, Logan McKaig, Andrew Mancinelli, Joseph Russel, Fern Spence, Ian Thompson, Reese Trahey
Access to sidewalks and trails provides important mobility options that can improve overall health and quality of life. Michigan townships with up-to-date non-motorized transportation plans are eligible for funding allocated for walking and biking facilities. This Spring 2022, our Urban and Regional Planning Practicum group built a framework intended to help develop Garfield Township's non-motorized transportation plan. Our scope of work was to create an evidence-based replicable process for future planning. This was specific to Garfield Township areas that displayed the highest opportunity and need for built non-motorized infrastructure.
Our methods used case studies of five Michigan Townships like Garfield Township that have non-motorized transportation plans. This assured key factors were used to develop our method of prioritization. We analyzed Garfield Township's plans and survey data to measure interest for non-motorized infrastructure. The Township's demographics and socio-economic profile were examined. This data was used to create a method for prioritization using a two-phase process to identify key areas for final recommendations.
Phase 1 used data from the US Census and the Township's Geodatabase to determine areas of need based on existing infrastructure, high population, and residential density. Equity for special groups was prioritized and mapped along with other key demographic data found using geographic information systems (ArcGIS Pro and ESRI GIS (Geographic Information Systems)). This information created a series of maps showing demographics with a final map displaying the three areas of highest residential density with special groups included. The areas were close to essential destinations and existing infrastructure.
Phase 2 produced a final score for those three areas based on site evaluations and field observations. Our team measured the current level of connectivity, safety, and ease of implementation, which scored each of the three study areas.
Our findings suggested Garfield Township can improve non-motorized mobility by first building infrastructure and facilities along three highest priority areas. These areas showed the most need for built infrastructure due to their high residential density with special groups, their proximity to clustered destinations of interest and existing infrastructure. The priority areas are Lafranier Road, South Airport Road between US-31 and Miller Creek Nature Reserve and South Airport Road between Barlow Street and Park Drive. Our suggested improvements ranged from near-term and least expensive to long-term and most expensive.
Recommendations were based on potential improvements to connectivity, safety, and ease of implementation. Connectivity for all areas encouraged connected orphaned sidewalks and ADA compliant multi-use trails and improved bus stops. Safety recommendations included repainting crosswalks, adding lighting, signage, and traffic calming. Ease of implementation included the need to coordinate with Grand Traverse County Road Commission and other stakeholders to secure available funding. These recommendations were placed in a matrix that ranged from low-cost to high-cost and near-term to long-term projects (figure 1). Low-cost and near-term recommendations included signs, crosswalk painting, and applying for funding. Medium-cost and longer-term recommendations included installing benches, bike racks, lighting, and sidewalk gap infill. The highest-cost and long-term recommendations were the installation of multi-use trails and sidewalks along both sides of the roads. Protected bus stops with benches, lighting and covered bike racks were also a long-term and high-cost recommendation. Suggestions for funding strategies with other agencies were provided.