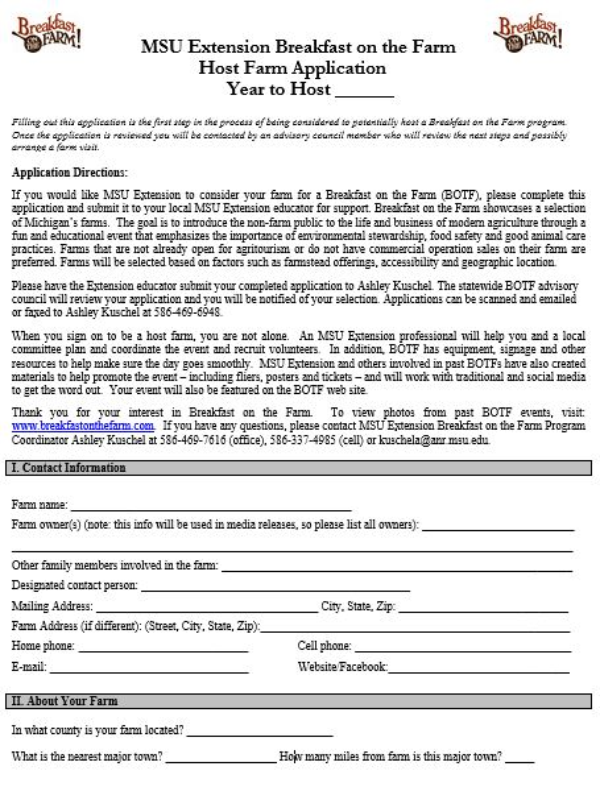 Host Farm Application
DOWNLOAD
April 29, 2022
If you would like MSU Extension to consider your farm for a Breakfast on the Farm (BOTF), please complete this application and submit it to your local MSU Extension educator for support. Breakfast on the Farm showcases a selection of Michigan's farms. The goal is to introduce the non-farm public to the life and business of modern agriculture through a fun and educational event that emphasizes the importance of environmental stewardship, food safety and good animal care practices. Farms that are not already open for agritourism or do not have commercial operation sales on their farm are preferred. Farms will be selected based on factors such as farmstead offerings, accessibility and geographic location.
Please have the Extension educator submit your completed application to Ashley Decker. The statewide BOTF advisory council will review your application and you will be notified of your selection. Applications can be scanned and emailed to Ashley Decker at kuschela@msu.edu.
When you sign on to be a host farm, you are not alone. An MSU Extension professional will help you and a local committee plan and coordinate the event and recruit volunteers. In addition, BOTF has equipment, signage and other resources to help make sure the day goes smoothly. MSU Extension and others involved in past BOTFs have also created materials to help promote the event – including fliers, posters and tickets – and will work with traditional and social media to get the word out. Your event will also be featured on the BOTF website.