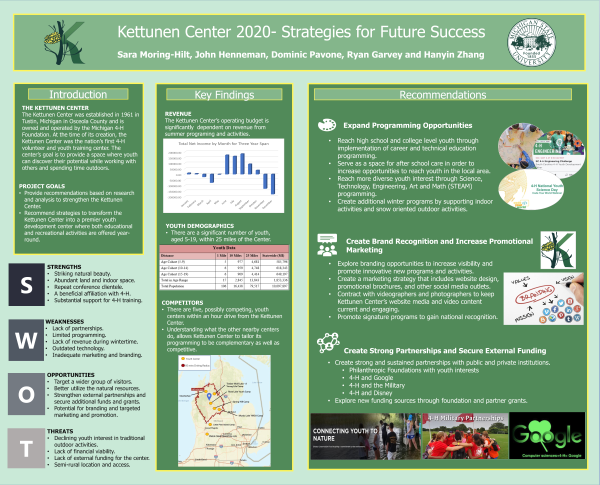 Kettunen Center 2020- Strategies for Future Success Report Executive Summary and Poster
DOWNLOAD
June 12, 2020 - Author: Sara Moring-Hilt, John Henneman, Dominic Pavone, Ryan Garvey Hanyin Zhang, Michigan State University
This study aims to provide recommendations to strengthen the Kettunen Center, a youth education and recreation center owned by the Michigan 4H Foundation. These recommendations outline an optimal use strategy for the center that is proposed in accordance with the Foundation's mission of youth development. The report provides guidance on steps that can be taken to transform the Kettunen Center into a premier youth development center where both educational and recreational activities will thrive year-round.
The research methodology of this report includes an assessment of the operations of the Kettunen Center, an evaluation of the market demand for youth recreation and education programming in the State of Michigan, and case study research on programing and practices of other youth oriented centers in the country. The Practicum Team's recommendations are based on research around Kettunen Center's options to expand its programming focus and broaden its partnerships with external institutions to realize a strong and successful future.
The analysis of Kettunen Center's previous financial statements and calendar of events indicates the importance of increased programming in the winter months. The socioeconomic profile of the region shows that the population in the surrounding area is older than the statewide average, signaling the need to attract youth from a greater area. With Census data showing only 13,843 school aged youth within a 25 mile radius and schools and nearby youth-oriented resources also providing programming it is important for Kettunen Center to offer a clear "brand" and a very unique experience that will set it apart as a destination for youth development.
While data specific to youth recreation is difficult to attain, we did find that outdoor recreation, in general, is a major industry and Michigan ranks high with greater than national participation averages. Perhaps, more relevant, were a set of factors holding youth back from participating in outdoor recreation, with the high upfront cost of outdoor recreation being the primary one.
The recommendations for the Kettunen Center are summarized in the following paragraphs and supported in this report by case study examples of noteworthy practices from across the county.
Expand Programming Opportunities The Kettunen Center has the potential to reach a much larger audience through the implementation of a more diverse set of programming such as STEAM programs (Science, Technology, Engineering, Art and Math), creative expression programs, after school learning programs, as well as a wider selection of recreational activities, and environmental stewardship programs. The Kettunen Center could also expand its indoor programs, offering unique opportunities for youth groups and individuals to visit the center and experience learning and collaboration during the winter months when outdoor programs is more challenging.
Create Brand Recognition and Increase Promotional Marketing Branding is an essential component of any successful enterprise and it has the power to expand the Kettunen Center's customer or visitor base. By developing a unique and consistent brand image, Kettunen will be communicating about what sets them apart from other youth centers and show potential visitors the value of being part of the Center's legacy. Branding will also enhance promotion and marketing in ways that better engage and captivate the youth. Expanding and increasing the frequency of communication, through social media, will also attract the interest of youth and their parents. Active promotion on social media and well-designed interactive websites are critical to attracting youth interest. Through better branding and promotion, the Center will be able to reach wider audiences and actively engage with them electronically.
Create Strong Funding Sources and Partnerships Strong partnerships are critical to the success of any venture. Kettunen Center manages to stay financially viable in its current operations, however, if it aspires to become a premier youth center, it will need to forge strong partnerships. Partnerships not only provide financial resources but also leverage brand visibility and attract additional social capital. The Kettunen Center should establish viable partnerships, not only with area schools and educational institutions but also with reputed private sector companies and non-profit foundations.
Kettunen Center has many assets, among them are wonderful natural resources, ample physical space, a dedicated staff and a worthy mission to engage youth and instill in them 4-H values. We believe that with continued stewardship of these assets and focused implementation of the above recommendations, the Center will be stronger and can become a premier 4-H youth center.