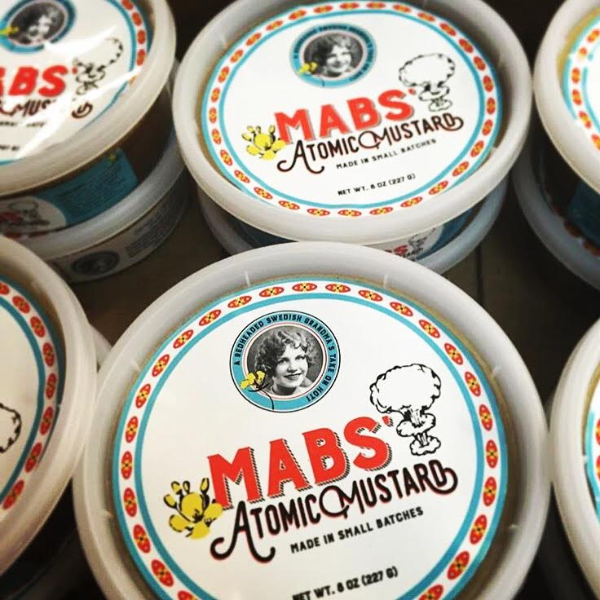 Mab's Atomic Mustard
DOWNLOAD FILE
Another Making It In Michigan Success Story: Mab's Atomic Mustard
Andrea Simard wanted to sell her grandmother's specialty mustard for about ten years but the timing was never right. Her Swedish grandmother Mabel ("Mabs") served it as a staple condiment and every year on Christmas Eve for a smorgasbord of ham, meatballs, potato sausage, and a myriad of other traditional dishes. She rarely gave out the recipe, but loved sending some home with anyone who asked. After a family friend jokingly referred to it as "atomic", the name stuck.
After selling at a holiday show and fundraiser in November of 2014 and getting great feedback on the mustard, Andrea decided to contact MSU Extension to learn more about what it would take to produce and market it on a greater level.
Mabs' Atomic Mustard is produced and packaged at The Original Pancake House in Bay Harbor, where Andrea's husband Eric is the general manager. The mustard is sold refrigerated, after testing through the MSU Product Center proved it couldn't be shelf stable without heating.
Mabs' Atomic Mustard is currently sold in several specialty retail stores in northern Michigan, and Andrea has plans for several other retail and restaurant venues along with increasing production and expanding distribution down the southwest shoreline of the state.
"The Product Center was very instrumental in guiding us in early product development and testing," states owner Andrea Simard. "Our innovation counselor supplied us with vital information on specialty food businesses, MDARD sites for the legalities of shelf stable versus refrigerated products, labeling requirements, pH baseline, contacts at MSU for initial recipe conversion and more. We plan to be a vendor this November at Making It In Michigan and are excited to have new opportunities for distribution and sales."