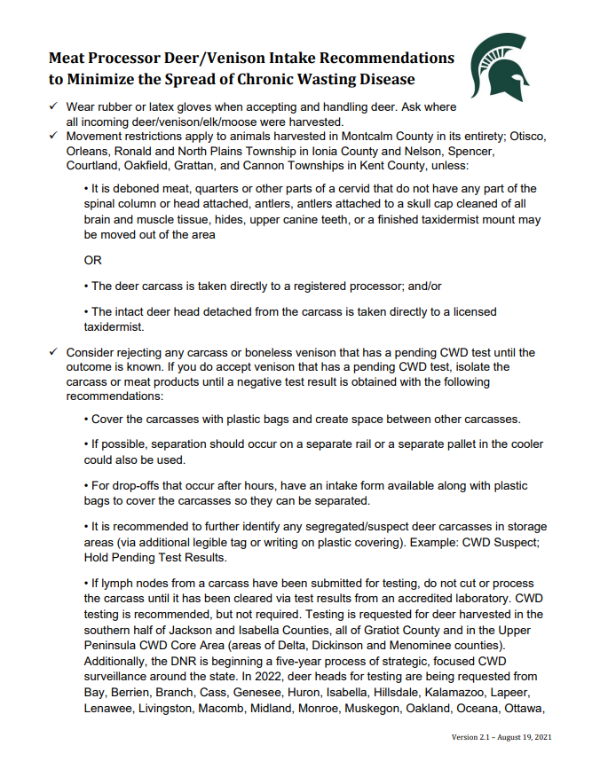 Meat Processor Deer/Venison Intake Recommendations to Minimize the Spread of Chronic Wasting Disease
DOWNLOAD
September 20, 2022 - Author: Jeannine Schweihofer, Katie Ockert
Wear rubber or latex gloves when accepting and handling deer. Ask where all incoming deer/venison/elk/moose were harvested.
Movement restrictions apply to animals harvested in Montcalm County in its entirety; Otisco, Orleans, Ronald and North Plains Township in Ionia County and Nelson, Spencer, Courtland, Oakfield, Grattan, and Cannon Townships in Kent County, unless:
It is deboned meat, quarters or other parts of a cervid that do not have any part of the spinal column or head attached, antlers, antlers attached to a skull cap cleaned of all brain and muscle tissue, hides, upper canine teeth, or a finished taxidermist mount may be moved out of the area

OR

The deer carcass is taken directly to a registered processor; and/or
The intact deer head detached from the carcass is taken directly to a licensed taxidermist.
Consider rejecting any carcass or boneless venison that has a pending CWD test until the outcome is known. If you do accept venison that has a pending CWD test, isolate the carcass or meat products until a negative test result is obtained with the following recommendations:
Cover the carcasses with plastic bags and create space between other carcasses.
If possible, separation should occur on a separate rail or a separate pallet in the cooler could also be used.
For drop-offs that occur after hours, have an intake form available along with plastic bags to cover the carcasses so they can be separated.
It is recommended to further identify any segregated/suspect deer carcasses in storage areas (via additional legible tag or writing on plastic covering). Example: CWD Suspect; Hold Pending Test Results.
If lymph nodes from a carcass have been submitted for testing, do not cut or process the carcass until it has been cleared via test results from an accredited laboratory. CWD testing is recommended, but not required. Testing is requested for deer harvested in the southern half of Jackson and Isabella Counties, all of Gratiot County and in the Upper Peninsula CWD Core Area (areas of Delta, Dickinson and Menominee counties). Additionally, the DNR is beginning a five-year process of strategic, focused CWD surveillance around the state. In 2022, deer heads for testing are being requested from Bay, Berrien, Branch, Cass, Genesee, Huron, Isabella, Hillsdale, Kalamazoo, Lapeer, Lenawee, Livingston, Macomb, Midland, Monroe, Muskegon, Oakland, Oceana, Ottawa, Saginaw, Sanilac, St. Clair, St. Joseph, Tuscola, Washtenaw, and Wayne counties, and also from the core CWD surveillance area in the Upper Peninsula (portions of Dickinson, Menominee and Delta counties) for CWD surveillance. Deer heads from these counties can be submitted at any open Michigan DNR Deer Station from October through January. If you receive notification that a carcass in your possession has tested positive for CWD, you can contact the DNR Wildlife Disease Laboratory at 517-336-5030 for assistance with removal of the carcass. Results from CWD testing are available from the Michigan DNR at https://www2.dnr.state.mi.us/testresults/ as soon as possible but may take up to 30 days of sample submission in peak season.
Waste created from the processing of carcasses from CWD affected areas should be double bagged and placed in dumpsters or receptacles to be sent directly to a regulated landfill.
Do not render, burn, compost, or place in the environment parts from deer that potentially have CWD as this could contaminate the environment or soil and spread the disease.
See additional processing protocol, including sanitizing knives, equipment, and surfaces with a 50 percent food grade commercial sodium hypochlorite, 50 percent water solution for one hour.