Municipality Legacy Costs
March 13, 2013
Jump to:
NEW: Local Government OPEB Other Postemployment Benefits) in Michigan: A Closer Look
Funding the Legacy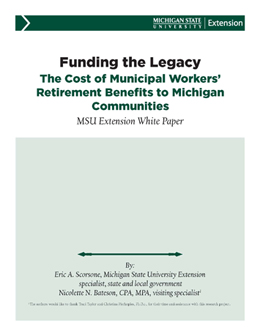 Legacy costs are one of the biggest financial challenges facing municipalities in Michigan. The two biggest legacy costs are pensions and other post-employment benefits (OPEB), specifically retiree healthcare. While pension obligations have been clearly defined and understood for decade, much less is known about retiree healthcare obligations.
A new Michigan State University Extension study examines 311 municipalities that offer OPEB, the scope of those benefits, compare the benefits to pension liability and other governmental debt, and quantifies the impact OPEB will have on municipal budgets.
Among its findings, the study found that the net unfunded OPEB liability is $12.7 billion. Detroit alone has an unfunded liability of $4.9 billion.
Read Funding the Legacy: The Cost of Municipal Workers' Retirement Beenfits to Michigan Communities
Originally published 3/14/2013
Data tables for 311 municipal units
Local Government OPEB in Michigan: A Closer Look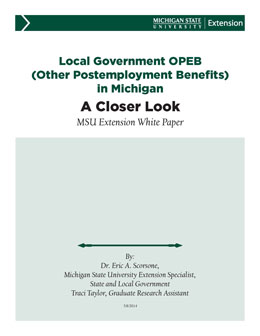 Postemployment benefits, including healthcare, are a primary driver of unfunded liabilities in America's cities, including a $12.7 billion liability in Michigan. This paper looks in detail at what drove these municipal legacy costs to unsustainable levels and what cities can do about it. The paper examines 174 actuarial valuations from 108 municipalities in Michigan, including 73 in southeastern Michigan, the area of the state with the most unfunded liabilities. Key factors adding to and limiting to OPEB liability are examined, including plan designs, age and service requirements, benefit provisions, cost sharing, and proportion of the membership already retired and receiving benefits and no longer paying into the system.
This paper is the most extensive look at OPEB plan designs ever conducted on Michigan municipalities.
Read Local Government OPEB (Other Postemployment Benefits in Michigan: A Closer Look