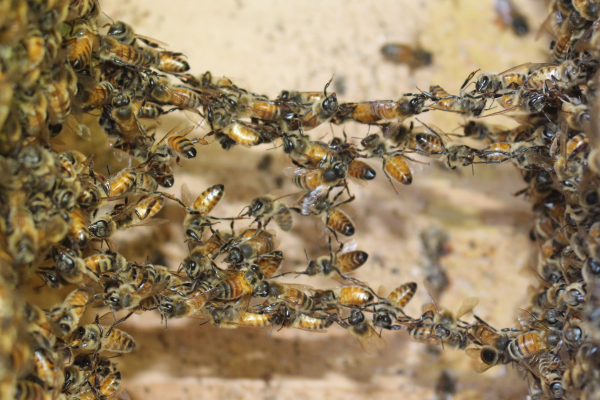 National MP3 Working Group
October 21, 2022 - Author: Ana Heck
Originally published: March 2, 2021
Last updated: October 21, 2022
Managed Pollinator Protection Plans (MP3) Working Group
State and tribal managed pollinator protection plans (MP3s) are designed to protect managed pollinators from pesticides. Managed Pollinator Protection Plans (MP3) Working Group members create and implement MP3s and programs that support pollinator health. The working group includes Extension educators, researchers, pesticide safety educators, apiary inspectors, and other professionals from departments of agriculture. The group meets monthly to learn about the work others are doing related to MP3s, share resources, and collaborate on projects that provide pollinator education and resources to pesticide applicators.
Pollinator Protection for Pesticide Applicator Online Course
Pesticide applicators can learn how they can support bees and other pollinators through the Pollinator Protection for Pesticide Applicators online course. Upon course completion, certified pesticide applicators in Michigan can request 1 credit (1A, 1B, 1C, 7A, Commercial Core or Private Core).
Pollinator Presentation for Pesticide Applicator Recertification Credit Clinics
Our Managed Pollinator Protection Plans (MP3) Working Group developed a presentation about pollinators for trainers to give at pesticide recertification credit clinics. Please contact Ana Heck to request a copy of the presentation.
Protect Pollinators: Read Pesticide Labels card to accompany presentations
Pollinator Protection Plans
Idaho Pollinator Protection Plan
Kentucky Pollinator Protection Plan
Michigan Managed Pollinator Protection Plan
North Dakota Pollinator Plan
Washington State Department of Agriculture Managed Pollinator Protection Plan
Wisconsin Pollinator Protection Plan
Managed Pollinator Protection Plans (MP3) Working Group Members
If you are interested in joining our working group, please contact Ana Heck.
Tribal Alliance for Pollinators
Jane Breckinridge, Tribal Alliance for Pollinators
Tribal Pesticide Program Council
Jasmine LR Courville-Brown, Pesticide Program Manager & Circuit Rider, Confederated Salish & Kootenai Tribes Pesticide Program, Flathead Reservation, Montana, Region 8
Tribal Pesticide Program Council
Nina Hapner, Vice Chairperson, Tribal Pesticide Program Council
British Columbia, Canada
Name: Nuria Morfin, BC Technology Transfer Program Lead, British Columbia Honey Producers' Association
Connecticut
Kimberly A. Stoner, Department of Entomology, The Connecticut Agricultural Experiment Station
Idaho
Justin Clements, University of Idaho
Iowa
Randall Cass, Extension Entomologist, Iowa State University
Maura Hall, Graduate State, Iowa State University
Kentucky
Tammy Horn Potter, Kentucky State Apiarist, Kentucky Department of Agriculture
Massachusetts
Hannah Whitehead, Extension Educator, University of Massachusetts Amherst
Michigan
Lauren Goldstein, Graduate Student, Michigan State University
Ana Heck, Apiculture Extension Educator, Michigan State University
Erin Lizotte, IPM Coordinator and Senior Educator, Michigan State University
Meghan Milbrath, Assistant Professor, Michigan State University
Websites: Michigan Managed Pollinator Protection Plan, Michigan Pollinator Initiative
Minnesota
Theresa Cira, Minnesota Department of Agriculture
Rebeca Gutierrez-Moreno, State Pollinator Coordinator, Minnesota Environmental Quality Board
Katie Lee, Post-Doctoral Researcher, University of Minnesota
Missouri
Samuel Polly
Montana
Alyssa Piccolomini, State Entomologist, Montana Department of Agriculture
Nebraska
Sheldon Brummel, Research Project Coordinator, University of Nebraska-Lincoln
Jennifer Weisbrod, Pesticide Safety Education Program Coordinator, Nebraska Department of Agronomy and Horticulture
Judy Wu-Smart, Extension & Research Entomologist, University of Nebraska-Lincoln
New Mexico
Melanie Kirby, Extension Educator, Institute of American Indian Arts Land-Grant Programs
New York
Mary Centrella, Director of the Pesticide Management Education Program, Cornell University
Oregon
Andony Melathopoulos, Assistant Professor - Pollinator Health Extension, Oregon State University
Reduce the Risk of Pesticides to Pollinators
Pennsylvania
Natalie Boyle, Assistant Research Professor, The Pennsylvania State University
South Carolina
Benjamin Powell, Apiculture and Pollinator Program Coordinator, Clemson University
Tennessee
Jennifer Tsuruda, Assistant Professor and Apiculture Extension Specialist, University of Tennessee, Knoxville
Texas
Juliana Rangel, Associate Professor of Apiculture, Texas A&M University
Vermont
Brooke Decker, Apiculturist and Pollinator Health Specialist, Vermont Agency of Agriculture, Food and Markets
Laura Johnson, Extension Pollinator Support Specialist, University of Vermont
Washington
Katie Buckley, Pollinator Health Coordinator, Washington State Department of Agriculture
Kelly Kulhanek, Assistant Professor of Pollinator Research and Extension, Washington State University

Wisconsin
Hannah R. Gaines Day, Research Scientist, University of Wisconsin-Madison
Website: Wisconsin Pollinators
Funding
This work is supported by the USDA National Institute of Food and Agriculture, Crop Protection and Pest Management Program through the North Central IPM Center (2018-70006-28883).