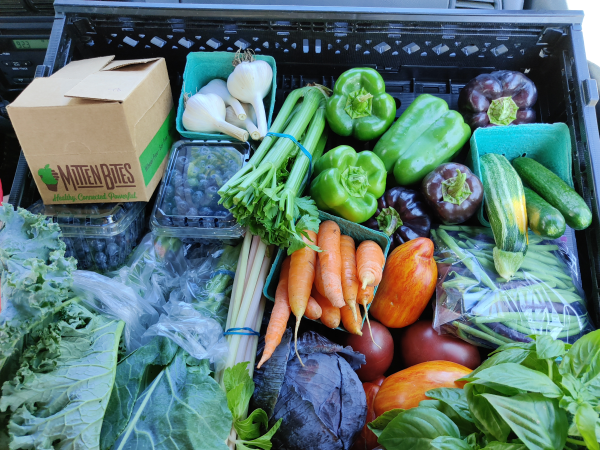 Pivoting Practice: Early Care and Education Food Procurement During a Pandemic
April 8, 2021 - Author: Meagan K. Shedd, Heidi Bombrisk, and Lindsay Mensch
Early care and education (ECE) providers choose to buy, or "procure," local foods in a number of ways. Some providers work directly with a farmer or producer, others visit a farmers market, order from a broadline distributor who delivers product, or shop at a grocery store for local foods. ECE providers might also use Child and Adult Care Food Program (CACFP) funds as they shop for local products.
When procuring local food, it is important that "local" is defined by the ECE provider, which gives providers flexibility in terms of where they source food. Local might mean a product is grown or produced within city or county limits, within state boundaries, or within a specified geographic area (e.g., a 50-mile radius for ECE sites that are within several states).
Procuring local food is one of the three core elements of farm to early care and education. Farm to ECE is a set of strategies and activities that increase children's, families', and communities' access to healthy, local foods and education about food, nutrition, and agriculture.
Pivoting During a Pandemic
The onset of the COVID-19 pandemic caused rapid changes across the nation's food systems and childcare systems. Although some early care and education sites closed, others remained open to care for essential workers' children.
Among the ECE sites that remained opened, there were some notable changes in food procurement and food service. With abrupt changes in staffing, ECE providers altered how they were obtaining local food for children and how they prepared meals and snacks. Decreased enrollment changed where they bought food, with some providers shifting from using broadline distributors with local products to buying from local grocers.
With uncertainty around daily attendance in the earliest weeks of the pandemic, providers shifted away from buying fresh produce. During our conversations with providers, some shared they were more likely to keep frozen vegetables on hand, not knowing how many children would be on site from day-to-day. As the months progressed and enrollment numbers leveled, providers were able to return to purchasing fresh produce, noting the preference for local was dependent upon the growing season.
ECE sites also shifted away from serving food "family style," or using large dishes meant for sharing. Serving food family style is identified as a best practice in child nutrition and for farm to ECE. Before the pandemic, many sites encouraged children to serve themselves while sitting together, but health officials advised against this for public health reasons during the pandemic. As a result, ECE sites transitioned to serving individually plated meals and snacks and physically distancing children. Due to staffing reductions, sites used simpler preparation techniques and shorter menu cycles. A menu that might have formerly included smoothies now may have sliced cucumbers, and six-week menus may now be three-week menus.
As the pandemic continues and more sites re-open, ECE providers continue to serve food with strict adherence to safety guidelines. Providers are working together to develop creative and innovative ways of obtaining local food and connecting with local farmers. Some collaborating sites will combine an order for pick up with a single point of contact redistributing the produce into smaller orders for each site. Similarly, local farmers are connecting with providers for Community Supported Agriculture (CSA) drop off boxes, complete with recipes for how to use the fresh produce. Container gardens in classrooms and small gardens at ECE sites are sprouting up and preparing for the summer—some for tasting demonstrations and some to supplement snacks and meals in 2021. While the pandemic presents many challenges for farm to ECE, providers are finding new and sustainable opportunities to connect children with growing and enjoying local food.
Celebrating Success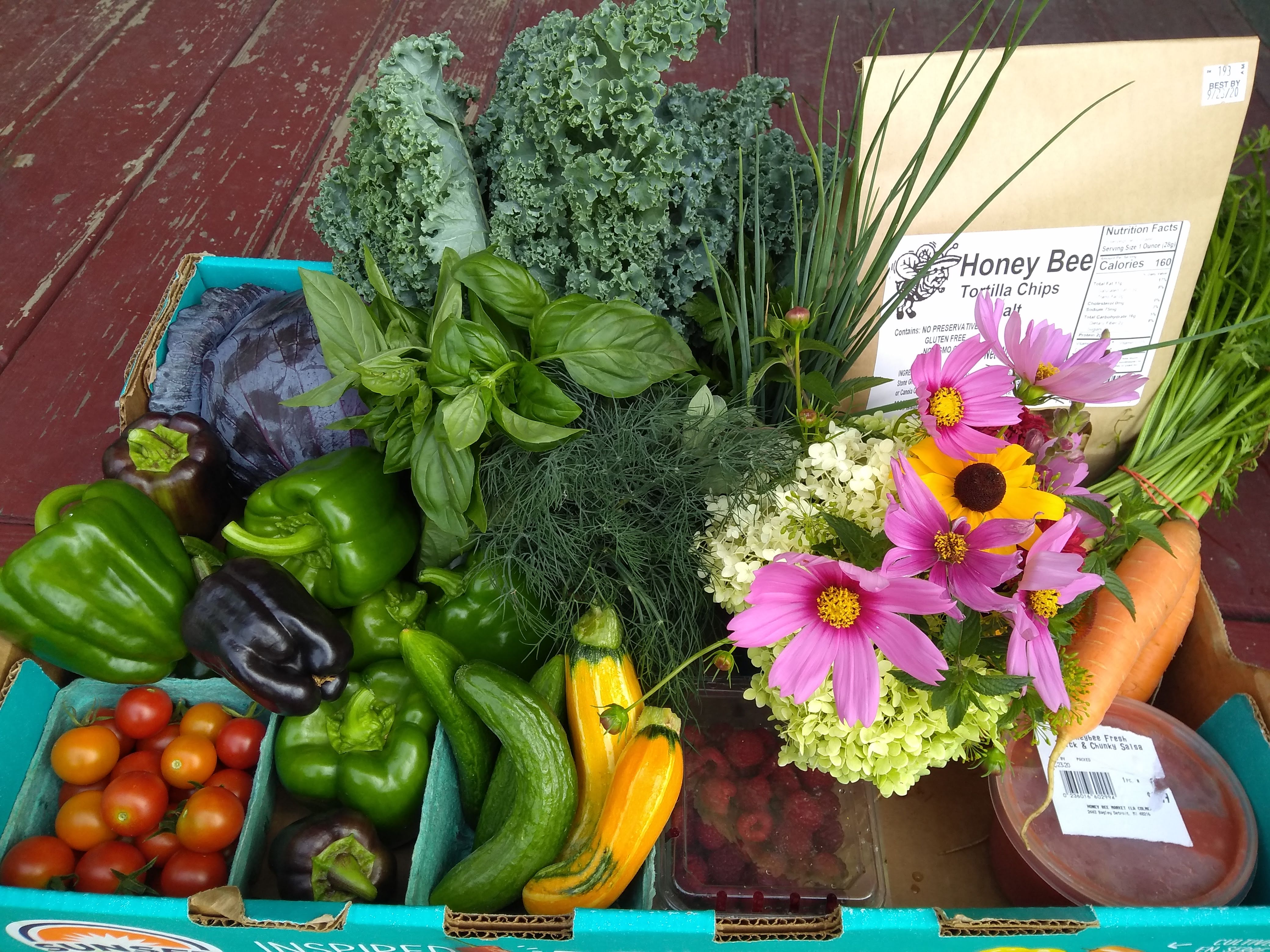 In summer of 2019, MSU Center for Regional Food Systems began a pilot program to support ECE staff so they can obtain locally-grown, healthy foods from a variety of sources to serve in meals, snacks, and/or use in educational activities. This "Farm to ECE Procurement Pilot" includes three communities across Michigan. Each ECE site participating in the pilot project receives a mini-grant to implement action plans they have developed. The group of participating providers meets regularly to discuss what is working, share strategies, and learn from one another. The intent is to share the lessons learned statewide at the end of the pilot.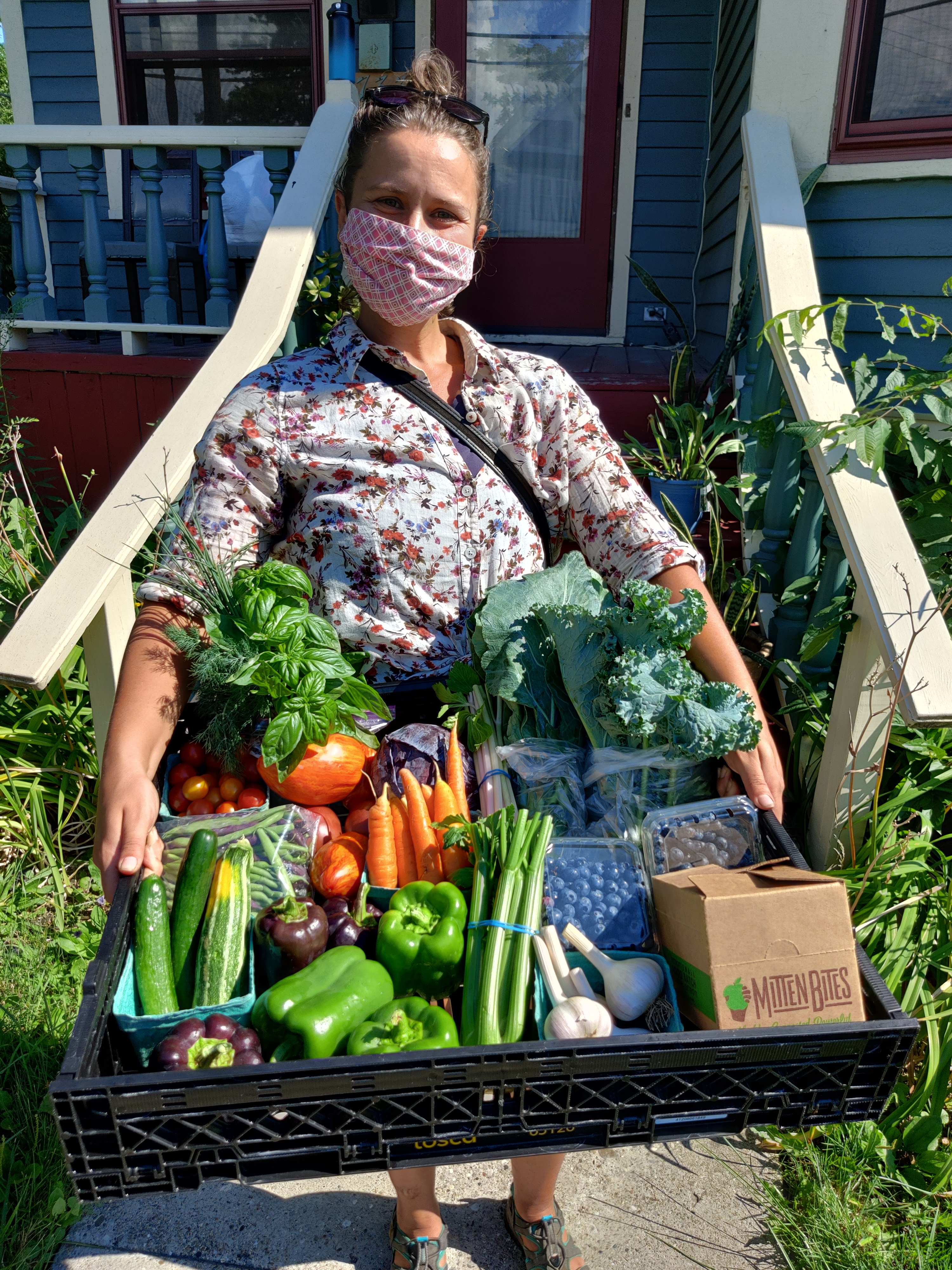 As part of the procurement pilot, a small group of family childcare providers in Detroit piloted a CSA membership during the pandemic. From August to October of 2020, the providers received a monthly produce box containing an array of seasonal produce, a Michigan-made value-added product, and resources such as cookbooks, seeds, or garden focused books for the children in their care. The farmer, Heidi Bombrisk of Family Roots Farm, also provided an "ask a farmer" platform, encouraging conversations around healthy eating, recipes, and the produce received for the week.
The pandemic created challenges for this model, but the CSA program was well received overall. The providers report that the model has increased access to nutrient dense produce, saved money, and encouraged local healthy options for children and their families. Equally as important, the CSA model has introduced the providers to a local farmer and the availability of this service, as well as a vast array of local produce. As a result, the participating ECE providers are discussing how to participate in the CSA in 2021, as well as how to include more ECE providers and farmers in this type of arrangement.
Tips for sourcing and serving local foods during the pandemic
Shortening your menu cycle can be helpful. Check out Child Care Food Program Roundtable for resources for menus.
Looking for ideas for seasonal recipes to highlight local products? Check out Cultivate Michigan's featured foods to find delicious recipes for all seasons.
The Child and Adult Care Food Program is a great resource for maximizing food budgets - and the program supports farm to ECE too! Learn more about CACFP resources from the National CACFP Sponsors Association.