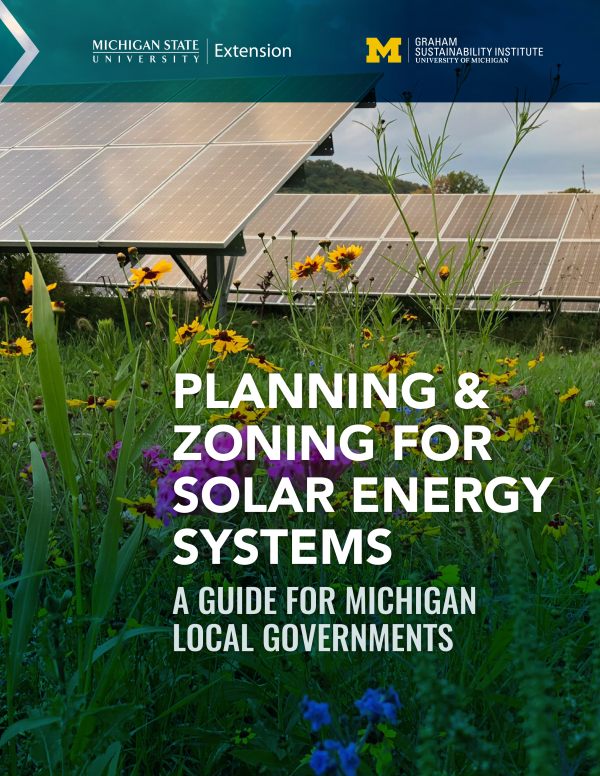 Planning & Zoning for Solar Energy Systems: A Guide for Michigan Local Governments
DOWNLOAD
October 5, 2021 - Author: Wayne Beyea, Harmony Fierke-Gmazel, M. Charles Gould, Bradley Neumann and Mary Reilly, Michigan State University Extension; Sarah Mills, University of Michigan Graham Sustainability Institute
The purpose of this guide is to help Michigan com­munities meet the challenge of becoming solar-ready by addressing solar energy systems (SES) within their planning policies and zoning regulations. This document illustrates how var­ious scales and configurations of photovoltaic SES fit into landscape patterns ranging between rural, sub­urban, and urban. The guide was devel­oped by experts within MSU Extension and the MSU School of Planning, Design and Construction in part­nership with faculty at the University of Michigan Graham Sustainability Institute. Further review of this document was completed by content experts from local units of government, legal counsel, energy-re­lated non-profits, utility experts, and members of academia. Its intent is to help Michigan communities make public policy decisions related to solar energy development. This guide is written for use by local planners, offi­cials, legal counsel, and policymakers within the State of Michigan. It first presents the current context for solar in Michigan, describes the various components and configurations of SES, and provides principles for how SES might fit within various land-use pat­terns across the state. Then, the guide presents sample language for including SES into a community's zoning ordinance.
Below is a companion webinar available to further supplement the guide.
Click here to view a fully-captioned version of the webinar.
Authors include: