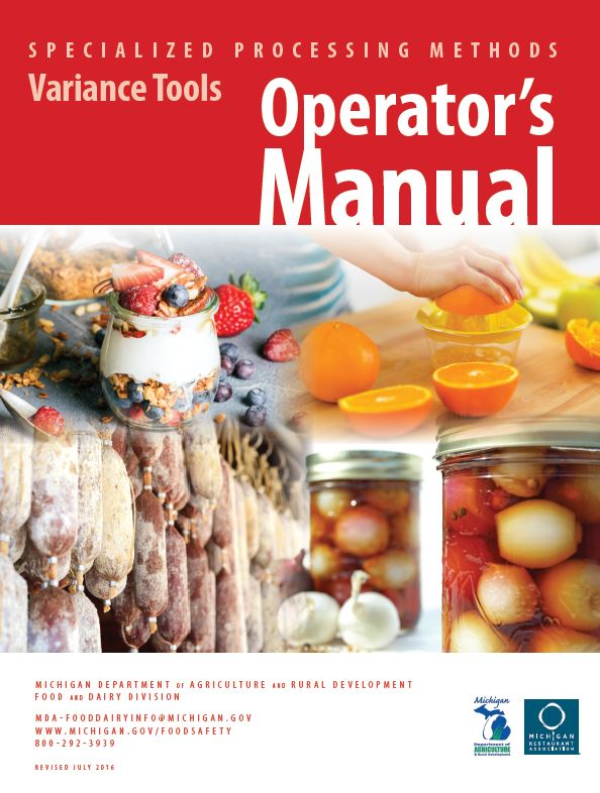 Specialized Processing Methods Variance Tools Operator's Manual
DOWNLOAD
March 7, 2020 - Author: Jeannine Schweihofer, Michigan State University
Introduction
The tools provided in this guidance are designed to assist the Michigan Department of Agriculture and Rural Development (MDARD), Food and Dairy Division, local health departments and retail food service operators understand and apply for specialized processing methods variances in accordance with the 2009 Michigan Modified Food Code (Food Code). Individuals who have specific questions regarding the variance process should contact the office that licenses and evaluates the retail food operation (either their local health department or MDARD).
What is a Variance?
A "Variance" is a written document issued by the regulatory authority that authorizes and allows a modification or waiver of one or more requirements of the Food Code if, in the opinion of the regulatory authority, a health hazard will not result from the modification or waiver (2009 Michigan Modified Food Code, Section 8-103.10).
When is a Variance needed?
A "Variance" may be requested when the retail food establishment Standard Operating Procedure (SOP) goes outside of the Food Code and is not able to meet a section in the Food Code as detailed in the sections 8-103.11 and 8-103.12, or when the retail food establishment conducts an operation that is not addressed by the Food Code as referenced in section 3-502.11.
Specialized Meat and Poultry Processing Method Variances that involve the curing and smoking of meat and poultry products can be found at http://www.michigan.gov/meatprocessing.
Specialized Processing Methods Variances: The Food Code requires a variance request with evidence be submitted to the regulatory authority.