Sustainable Built Environment Initiative
What is SBEI?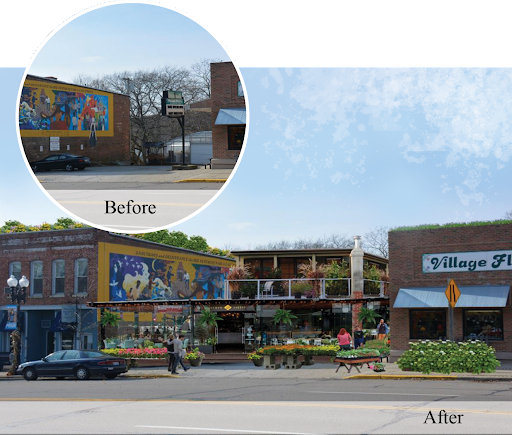 The Sustainable Built Environment Initiative (SBEI) at Michigan State University (MSU) began as a pilot in 2013 as a means of assisting communities to address physical planning, design and land use issues (see "Image 1" for Village of Cassopolis Broadway Corridor Vision Project). It offers a graphic visioning process that provides citizens with a set of images and recommendations to guide improvements in their community with a sustainability theme. The SBEI builds on the success of the former MSU Small Town Design Initiative by providing a "go-to" source for Michigan's communities for physical sustainable design assistance in community development and land use.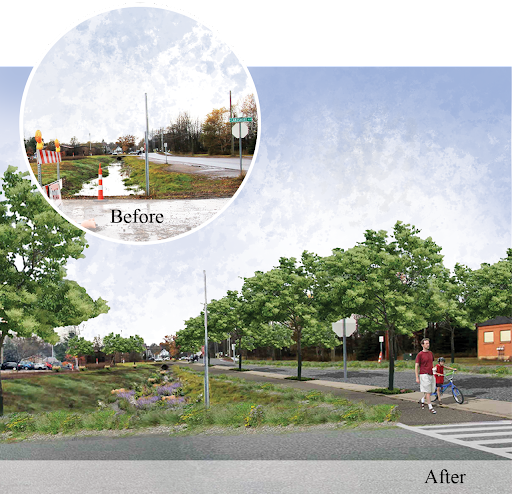 MSU Extension (MSUE) and the School of Planning, Design and Construction (SPDC) have jointly developed SBEI to address sustainability challenges and improve the quality of life in Michigan's communities. The partnership allows for an integrated approach to solving complex community problems through the diverse expertise found within SPDC, including Construction Management, Interior Design, Landscape Architecture and Urban & Regional Planning, along with MSUE's institutes and Extension educators (see "Image 2" for Marquette Area Climate & Health Adaptation Project). Download a promotional flyer about the initiative.
The Objectives of the SBEI are to:
(See "Image 3" for Flint Native Habitat Restoration Vision Project)
Project Types
The SBEI seek projects that integrate planning and design elements within a sustainability framework, including regeneration (vacant land reuse, brownfields, placemaking), renewable energy (green development and building technology) and resiliency (economic shock, climate adaptation, natural disasters) using the imaging/visioning umbrella of physical sustainable design. Examples could include downtown streetscapes, parks, bikeways and trails, open space systems, industrial/commercial reuse, beautification, land use, signs, agricultural/conservation land preservation, ecosystem management, neighborhood/residential development and climate & health adaptation plans (See "Image 4" for Marquette Charter Township Corridor Project). The scale of the project can vary from a single parcel to a subarea plan.
Who Qualifies for SBEI Services?
Political jurisdictions in Michigan can apply for SBEI assistance. This may include townships and charter townships, as well as villages, cities and counties. Nonprofit organizations are also eligible.
What to Expect
Each project will be completed as an individual effort by the SBEI. A team will be assembled, as appropriate, to properly address the project needs. Size, timing and complexity of the project will determine how and who is assigned to the project by the SBEI.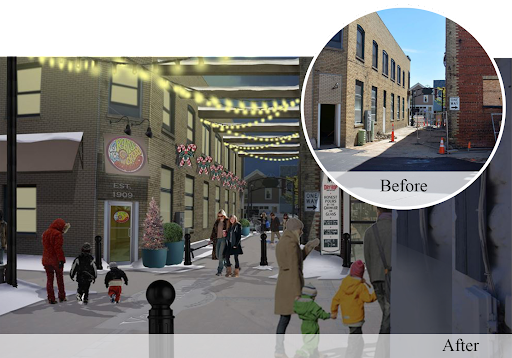 The energy, creative thinking and innovation of students, faculty and professionals at Michigan State University will all be brought into focus to assist Michigan's communities in developing a vision and plan, build consensus and create physical images of sustainable design projects. This process, and resulting products, provides the community with a clearer definition of the problem and potential solutions. The natural, and intended follow through is for the community to engage professional planning and design consultants who will further evolve the ideas, and prepare the technical studies, plans, drawings, specifications and cost estimates that turn the project ideas into reality (see "Image 5" for Charlevoix Downtown Alley Corridor Vision Project).
What is Required?
Communities interested in receiving Sustainable Built Environment Initiative assistance must complete an application package. Applications will be evaluated by the SBEI. Evaluation criteria include: Project meets SBEI goals, broad-based community involvement and support, clear community objectives, quality of base materials (maps, data, etc.) and financial commitment. If appropriate, applicant communities will be contacted by the SBEI to further review their application. In some cases a community visit will be necessary with the SBEI.
Complete applications are encouraged to be submitted by March 30 and September 30 each year for priority consideration. However, applications can be submitted throughout the year at any time. Projects will generally be approved by May 15 and November 15, respectively.
Climate & Health Adaptation Focus
Climate change is recognized as one of the greatest threats to public health, yet few examples of climate and health planning currently exist, particularly for small and rural communities. For those communities that are proactively building resiliency and climate adaptation capacity, the SBEI process can guide communities on how to incorporate health perspectives into local planning. By engaging vulnerable populations and coordinating local governments, planners, and health departments, a successful climate and health adaptation plan can be developed.
The SBEI will give priority to communities that are looking to address health-related climate challenges. The climate and health adaptation plan can serve as an update to the master plan or a stand-alone strategic document to address local concerns and funding opportunities. Overall, the process will help build consensus and generate ideas to address climate and health issues for specific areas incorporating planning and design ideas.
How to Apply
Past Project Examples
Examples of Previously Completed Projects (Note- Some of these projects were supported with additional grant funding):
Project Impact Summaries
Impact summaries give a concise overview of completed SBEI projects (Note - some of these projects were supported with additional grant funding):
Sustainability Assessment Tool
The Sustainability Self-Assessment Tool has been designed by a research team at MSU's School of Planning, Design, and Construction with funding support from the U.S. Department of Housing and Urban Development (HUD), Sustainable Communities Regional Planning Grant.
This tool can be used by communities looking to measure their progress towards sustainability. There are two different versions of the self-assessment tool: The Basic Self-Assessment Tool and the Advanced Self-Assessment Tool.
The basic self-assessment tool provides a basic measure of community progress toward sustainability. It consists of 19 indicators of sustainability, divided into the categories of Economy, Environment, Governance, Community, and Livability.
The advanced version of the self-assessment is a more comprehensive tool that provides a holistic, systems-based analysis of a community's sustainability. It consists of a compilation of 32 indicators of sustainability, divided into the categories of Livability, Governance, Environment, Community, and Economy.
Contact Information
Wayne Beyea, JD, AICP
Director, Sustainable Built Environment Initiative
Senior Specialist, Urban & Regional Planning Program
School of Planning, Design and Construction
Michigan State University
Human Ecology Building
552 W. Circle Drive, Room 101
East Lansing, MI 48824-1030
(517) 432-7600
beyea@msu.edu