Envisioning the Future of Belle Isle's Conservatory Area Grounds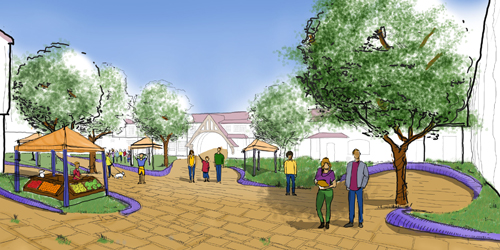 Landscape Architecture and Environmental Design students from SPDC (ranging from undergrads through PhDs) participated in the DETxMSU Summer of Hustle 2016 program from May 30-June 25, 2016.
The Michigan Department of Natural Resources manages the Belle Isle property and is ready to move forward to evolve programming and site design for a sustainable park. The students worked for the MDNR and Belle Isle, as part of the Student Parks Project, and envisioned a cultural area (known as the Cultural Campus) at the park to meet their aesthetic, functional and environmental needs. This course was co-taught by Rob Dalton, PhD, Landscape Architecture assistant professor; and Pat Crawford, SPDC's associate director and Landscape Architecture associate professor.
Site entities for this project included:
The Jerome H. Remick Band Shell.
Nancy Brown Peace Carillon.
Formal Garden, including the Levi Barbour Fountain.
The Anna Scripps Conservatory and Aquarium, including a koi pond and two service drives.
Horse Stables.
The White House.
Waterways, including Lake Tacoma and Nashua Canal (western edge).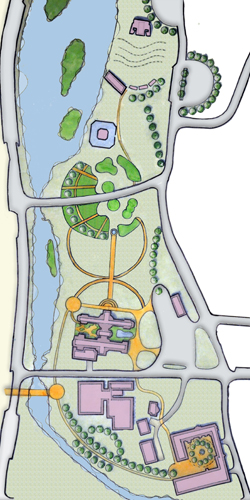 Each piece within Belle Isle is a landmark on its own. In each design schematics, the landmarks each have their own important use, and their own types of people to gather. As the MDNR moves forward to engage the residents of Metro Detroit, it is important to engage all of the City's ethnicities and religions.
The team brainstormed ideas based on how each schematic would make the visitor feel, how visitors would engage with the site through programming, and what makes this piece unique from the rest of the island. Three sets of site plans were developed by the students showcasing their various themed ideas, including sketches.