Canada thistle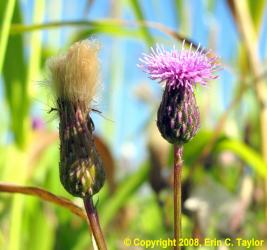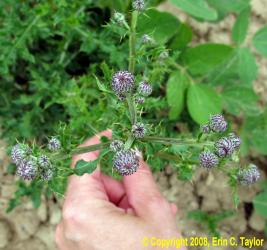 Canada thistle (Cirsium arvense (L.) Scop.)
Life Cycle:
Perennial. Emerges in spring and flowers when days are the longest. Plants die after the first killing frost.
Emergence:
Seedlings produced from seeds emerge from soil depths of 1/4- to 1/2-inch. However, seeds have been found to germinate from 3-inch soil depths. Adventitious shoots (vegetative propagules) from creeping roots can come up from greater depths.
Reproduction:
Mode(s) of Reproduction: Most local reproduction is from creeping roots. Seed production allows for local and long distance reproduction.
Production Range: Seed production ranges from 1,500 to 5,300 seeds per plant.
Dispersal Mechanisms: Creeping roots can be moved from field to field on tillage equipment. Each seed has an attached pappus which allows for wind dispersal.
Longevity: Low to moderate persistence - when buried 1 to 3-inches in the soil 45 to 60% of seed germinates the first year and less than 1% survives after 3 to 5 years. When buried at greater depths (7-inches or more) and left undisturbed seeds have been found to be viable for up to 30 years.
Dormancy: Though most seed is capable of germinating upon dispersal in the fall it enters secondary dormancy during the winter months.
Competitiveness:
Moderate shoot densities have been shown to reduce spring wheat yield and alfalfa seed yield by up to 50%.
Preferred Soil/Field Conditions:
Prefers perennial and no-till cropping systems and rangelands.
Management:
Biological
Predation/grazing: When present Orellia ruficauda (i.e. a seed-head fly found in Canada and the United States) can be responsible for 20 to 80% seed predation. Other agents have been studied, but eliminated for various reasons. Some livestock have been known to graze on Canada thistle at different life stages (see Chapter 5).
Decay: No information.
Mechanical
Tillage: Tillage, mowing and other forms of mechanical control have been deemed ineffective for control. Tillage can increase the problem by spreading vegetative propagules.
Rotary Hoeing: Not effective.
Flaming: Not effective
Cultural
Crop rotation: Canada thistle populations have been shown to be reduced by the use of a summer annual cover crop such as sudangrass (See the cover crop chapter in IWM: Fine Tuning the System).
Planting date: Most likely will not affect Canada thistle infestations.
Chemical
Application timing and effectiveness: Most susceptible to herbicides between the bud and flower stages of Canada thistle. Sequential herbicide applications may be necessary for control. Please refer to E-434, "MSU Weed Control Guide for Field Crops," for herbicide recommendations.