Donald J. Ricks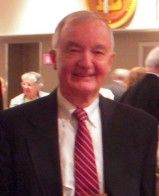 Department of Agricultural, Food, and Resource Economics
Professor Emeritus and Extension Marketing Specialist
AEC/AFRE Faculty, 1964 to 2003
Haslett, Michigan ricks@msu.edu
Degree:
Ph.D., 1965. Oregon State University.
M.S., 1960. Michigan State University
B.S., 1958. Michigan State University
---
Bio-Info
Professor Emeritus, Donald J. Ricks was born on a fruit farm in Michigan, and has over his career on extension and problem-solving research on marketing and economic problems of the Michigan and U.S. fruit industry. This involved a total marketing system approach, including marketing organizations, market structure, vertical coordination and participant behavior between farmer and consumer. His extension activities included continual working relationships with growers, processors and many industry groups, and conducting workshops on improved marketing system for fruits.
Overall, Professor Ricks' professional interests included: marketing performance, industry strategic planning and competitiveness, vertical co-ordination, consumer and trade market research, market structure, pricing, group action activities, selected international trade topics, long-term projections, industry performance dealing with the fruit industries. His applied research was designed to be closely integrated with extension effort working the Michigan and U.S. fruit industries.
One major emphasis of Professor Ricks' extension program has been on broad industry problems and issues. This phase of the program has included working with many industry groups. Other phases of his extension program have been oriented toward providing economic information for management and planning decisions of individual farms and marketing firms. His extension program with the fruit industries was supported by a closely integrated program of applied economic research. All of his research activities were directed toward providing economic analysis results which could be used in his extension programs and by extension agents who work with these industries.
The analysis results and related information have been extended by Professor Ricks to the industry through bulletins, articles and papers as well as through a great many speeches and extension workshops with industry audiences. He has given a total of 618 speeches to industry and extension audiences over the years. The extension programs with both industry groups and with individual farms and marketing firms are illustrated by Dr. Ricks' work with the tart cherry industry. He has worked especially close with the tart cherry industry over the years on various economic and marketing issues including marketing order programs, co-operatives, price analysis, market expansion, long-term supply-demand analyses, export expansion issues, adjustments to changing economic conditions and a variety of other issues.
In recognition of his long-term efforts with cherry industry economies, Professor Ricks has received several industry awards for his work. His extension efforts have also involved substantial work with the Michigan apple industry as well as with other industries such as plums, blueberries and asparagus. This work has included economic analysis and extension information on topics such as improving Michigan's competitive position, demand expansion alternatives, international trade issues which affect the fruit industries, long-term trend analysis, and various alternatives for improved marketing.
Students
Student Mentoring
Worked with AFRE graduate students to gain experience and insights in extension marketing and food industry consultation/facilitation activities
Teaching Experience
EAD 315 - Leadership Training (Fall Semester 2012/13/14)
Pubs Online
Notable Docs/Pres
Notable Publications/Presentations (Downloadable)

Customer Preferences for Michigan Apples: A Case Example of a Market Research Program for a Commodity Industry. 2002. By Donald Ricks,James Sterns,and Timothy Woods. 2002/3. Journal of Food Distribution Research
A Framework for Effective Industry Strategic Planning. 2002. by Conrad P. Lyford, Donald J. Ricks, H. Christopher Peterson, and James A. Sterns. Journal of Agribusiness 20,2 (Fall 2002):131-146
Supply Chain Management for Industry Competitiveness: Case Examples from the Tart Cherry Industry . 2000. Donald Ricks - Journal of Food Distribution Research.
Strategic Planning For Improved Competitiveness by Regional Commodity Industries D .1996. by Donald J. Ricks and Timothy A. Woods - Journal of Food Distribution Research, Volume 27, pages 59-71.
Apple Industry Strategic Planning and Integration with University Research. 1995. by Donald J. Ricks and Timothy A. Woods. Journal of Food Distribution Research,Volume 26, Number 1.
Strategic Planning With Horticultural Crop Industries. 1996. by Donald Ricks, Duncan Boughton, Conrad Lyford, and Timothy Woods. XIII International Symposium on Horticultural Economics.
Costs of Apple Production in Western Michigan: Standard Orchard Planting. 1977. By Myron Kelsey, Donald Ricks, and Scott VanDerbeck. Bulletin e1106 - Michigan State University Cooperative Extension Service
Projects
Continuously consulted and worked closely with a variety of fruit industry organizations and marketing groups
Chairman, Cherry Administrative Board (for the national marketing order for the tart cherry industry) - 1979-84, Alternate Chairman, 1984-86
Consulted with national apple growers organization on case before the International Trade Commission
Consulted with National Farm Credit Service on long-term future of fruit and vegetable industry
Consulted with U.S. Department of Agriculture on two studies of fruit and vegetable marketing orders
Consulted with U.S. Department of Justice on a land acquisition case
Grant for consulting work with Curtice-Burns on improving their apple operations
Contracts with federal Extension Service for developing educational materials on (1) apple marketing and (2) exports expansion
Project to analyze cherry industries and markets in nine European countries (grant from Michigan Association of Cherry Producers) - 1974
Project to evaluate the Polish Bilberry industry (sponsored by Foreign Ag. Service and Michigan Blueberry Growers Association) - 1974
Visiting scholar, Wirtshaft des Landbau, ETH, Zurich, Switzerland - 1974
Visiting scholar and consultant at regional ag. research center in Zaragoza, Spain - 1974-75
Consulting on food marketing in Costa Rica - 1972
Consulting on food marketing in Panama and Colombia - 1971