Satish Joshi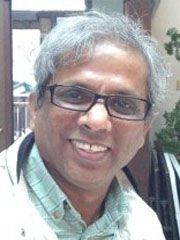 satish@msu.edu
Telephone: 517 353 8628

Department of Agricultural, Food, and Resource Economics
Professor
446 W. Circle Dr., Rm 304
Justin S Morrill Hall of Agriculture
East Lansing, MI 48824-1039
Degree:
Ph.D., Carnegie Mellon University
PGDRM, Institute Of Rural Management, India
B.Tech., Karnataka Regional Engineering College, India
---
Satish Joshi joined the faculty in 2000 in the tenure system to undertake research and teaching in the area of environmental and natural resource management and policy. His current research focuses on environmental life cycle analysis, corporate environmental management, alternative transportation fuels, biobased materials, and environmental accounting.
His teaching interests include Corporate Environmental Management, Sustainability, Environmental Economics, Ecological Economics and Public Policy Analysis.
Research and Outreach Interests
Environmental policy analysis and corporate environmental management
Economic and environmental performance of biofuels and biobased materials
Healthcare policy
Student Mentoring
Teaching Experience
EEP 255 Ecological Economics
EEP 320 Environmental Economics

Corporate Environmental Management
Sustainability
Public Policy Analysis