The Nursery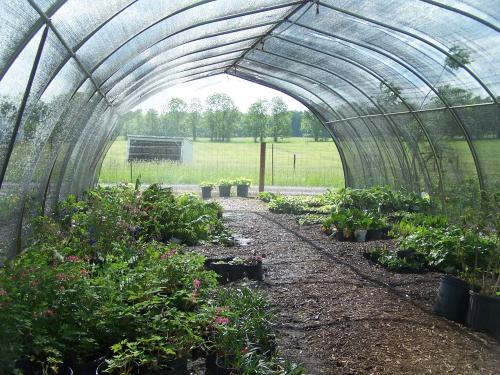 The nursery is designed to be be a holding area for plant material to be shared between gardens on the property. It is also used as an area for plant sales and for plant propagation. The nursery contains both shady and sunny growing areas suitable for plants requiring a variety of growing conditions. The nursery is an integral part of the Tollgate gardens.
The success of the nursery is dependent on donations of plant materials from Tollgate garden Volunteers and other local gardeners who share divisions of desirable plants from their home gardens.
The nursery team wants to say a huge THANK YOU to all those who supported the nursery's spring and fall plant sales with donations of plant material.
Please click here for a list of plants that are needed in the Tollgate nursery
Specific directions on how to donate plants are attached (different for HOSTA vs. non-HOSTA perennials).
Donation guidelines for non-HOSTAS
Also attached is a partial list of plants by common and botanical name prioritized by level of need. Note that the list is sequenced alphabetically by botanical name, within each category. Categories include:
MOST NEEDED - These are popular varieties that typically sell well and/or our stock levels are low. It is our top priority to get more of these plants into the nursery so that we can meet or exceed sales levels of previous years.
ACCEPTING - We have some of these varieties in stock, but need more to meet the target levels set based on prior plant sale experience. More of these plants will provide a broad and deep selection for our customers at sale time.
NOT NEEDED - Based on the sales experience of the past couple of years, we think we have adequate stock of these plants. But, we are still accepting donations - because we know that there is a lot of variation from year to year in what sells, and we aren't smart enough to predict exactly how many of each plant we will need!
NOT ACCEPTING - These are varieties that are overstocked, and we just don't have room to accept more. Plants in this category may also be invasive plants. It is our policy not to offer invasive plants for sale.