Impact Assessment of Bean/Cowpea & Dry Grain Pulses CRSP: Research, Outreach & Training Investments
Co-Principal Investigators
Overview
This is project (SO4.1) of the Feed the Future Innovation Lab for Collaborative Research on Grain Legumes (formerly the Pulse CRSP) funded by USAID and housed at MSU. Building on prior research of the Pulse CRSP at MSU, the Legume Innovation Lab was established on April 1, 2013, with a five-year award from USAID-Washington to Michigan State University to serve as the Management Entity. Faculty of AFRE were selected to implement this specific research/outreach sub-project based on an open competitive proposal process in response to Requests for Proposals issued by the MSU Management Office.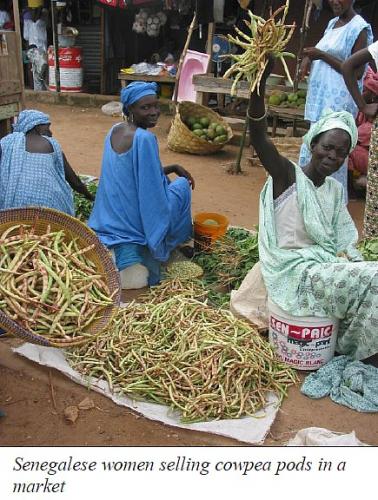 Under the leadership of faculty of AFRE, this project provides the following services to USAID and the Management Office of the Legume Innovation Lab:
Advise program directors on projected future research outputs, technologies, and practices with high potential for benefit to and adoption by end users.
Assist the Management Office on appropriate indicators to monitor project technical progress and performance in achieving developmental outcomes and in developing approaches to systematize the collection of needed data for indicator reporting to USAID under Feed the Future.
Work with Principal Investigators of subcontracted projects to define clear outputs from research and capacity building activities, develop impact pathway strategies, determine to whom and when outputs will be handed over to other public and private sector entities for follow-up translational research and technology dissemination, and identify appropriate baseline data that should be collected for future assessment of adoption by end users.
Assess ex-post adoption impacts of Bean/Cowpea and Pulse CRSP technologies for analysis of return on investments in research, program promotion, and reporting purposes to USAID.
Enhance future impacts by engaging in innovative and evidence-based research that will serve as an input in making strategic research priority decisions by the Legume Innovation Lab program, and in developing strategies for technology dissemination for maximum impact.
Implementation: Apr. 2013 - Sept. 2017.
Information Links
Presentations

Maredia, M and Reyes, B. 2013. "

Impact Pathways and Relevance to Legume Innovation Lab Projects

" Legume Innovation Lab Project Planning Meetings.
Magen, B., E. Crawford and M. Maredia. 2013.

Economic Impact of Research Investment in the Development and Dissemination of Improved Cowpea Varietal Technology in Senegal

. Selected Poster, Agricultural & Applied Economics Association Meeting, Washington, DC, August 4-6, 2013.
Maredia, M. 2012. "

Global Pulse Production and Consumption Trends: The Potential of Pulses to Achieve 'Feed the Future' Food and Nutritional Security Goals

". 2012 Global Researchers Meeting, Dry Grain Pulses CRSP, Rwanda, February 18.
Maredia, M. 2012. "

Refocusing and Positioning the CRSP to Achieve Development Outcomes: Lessons Learned from Past Bean/Cowpea and Pulse CRSP Investments in Research

". 2012 Global Researchers Meeting, Dry Grain Pulses CRSP, Rwanda, February 14.
Reyes, B. A. Bernsten, R. H. Maredia, M., Crawford, E. W. 2012. "

Seed Systems as a Basis for Achieving Impacts from Research Investments in Bean and Cowpea Breeding

". 2012 Global Researchers Meeting, Dry Grain Pulses CRSP, Rwanda, February 14.
Maredia, M. 2011. "

Building Human Resources and Institutional Capacity through CRSPs: Achievements, Best Practices and Constraints

". BIFAD Meeting, Des Moines, IA, October 11, 2011.
Maredia, M. 2011. "

M&E and Impact Evaluation of Agricultural Research: Challenges and Best Practices

". "Feed the Future" Planning Workshop organized by USAID and APLU, Purdue University, January 12.

Visit Achiements on the Main Web Site of the Legume Innovation Lab