Long-term Ecological Research in Row-crop Agriculture (KBS-LTER) - Ecosystem Services Component
Co-Principal Investigators
Chairperson and University Distinguished Professor
swintons@msu.edu
517-353-7218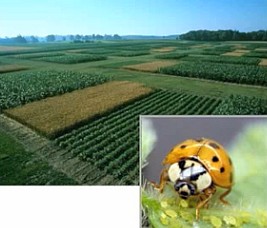 The KBS-LTER project is a multi-disciplinary study of the ecology and economics of intensive field crop ecosystems in the Midwest. The project is funded by the National Science Foundation with support from Michigan State University AgBioResearch. The project began in 1987 and a renewal proposal is submitted to the National Science Foundation every six years. The Ecosystem Services component has been active since Dec. 2004.
The Ecosystem Services component of the project explores how human producers and consumers benefit from agricultural ecosystems. Agricultural ecosystems are explicitly managed to meet private objectives, primarily profitability from the sale of food, fuel and fiber products. Because these ecosystems are directly managed by humans, they are uniquely suited to generate ecosystem services that could meet other human needs for which markets may not exist. The Ecosystem Services component of the KBS-LTER project explores four themes:
The suitability of agriculture to provide various ecosystem services,
The willingness of farmers to provide nontraditional ecosystem services,
The potential value of ecosystem services from and to agriculture, and
Policy designs to encourage farmers to provide a wider range of ecosystem services.
Click here for more information about the Ecosystem Services research program.
Click here for recent publications on economics and ecosystem services from this project.
Click here for more information about the overall KBS-LTER project.
Click here to view/listen to an audio enabled powerpoint presentation by Scott Swinton on "Profitability of Supplying Ecosystem Services from Michigan Row Crop Systems"