USDA - Decision Support Systems for Regional Planning and Impact Asssessment of Biorefineries
Co-Principal Investigators
Professor & Assistant Dean, College of Agriculture & Natural Resources
loverid2@msu.edu
517-432-9969


Associate Professor and Associate Chairperson for Undergraduate Programs
rross@msu.edu
517-355-2266

Non-AFRE Co-Principle Investigators: Stephen Yanni of Bay Mills Community College (syanni@bmcc.edu) and Subbu Kumarappan (kumarappan.1@osu.edu) of Ohio State University's Agricultural Technical Institute.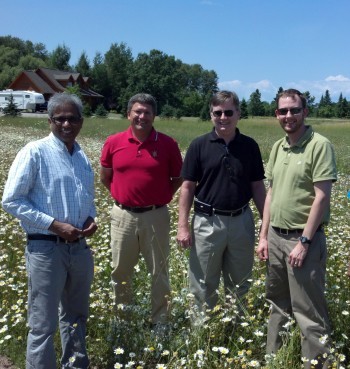 Implementation: Feb, 2013 - Aug, 2015. This work is funded by the U.S. Department of Agriculture's (USDA) National Institute of Food and Agriculture (NIFA). The Energy Independence and Security Act of 2007 mandates use of 21 billion gallons of cellulosic and advanced biofuels by 2022, but scaling up the advanced biofuel sector poses major economic and logistical challenges for regional planners and biofuel entrepreneurs in terms of feedstock supply assurance, supply chain development, and assessment of socioeconomic impacts. To assist in confronting these constraints, this project will conduct research and develop tools to address the following issues which are also identified as priorities under the Sustainable Bioenergy Program.
Survey research aimed at assessing the acceptability of biorefineries to communities and socio-economic factors associated with the level of such acceptability.
Socioeconomic effects of these decisions including implications for small scale and minority/tribal producers.
A biomass harvest-shed design tool to help determine the optimal mix of woody biomass, annual crops and perennial grasses for a regional biorefinery, taking into account the necessary contract terms, feedstock costs, transport costs, GHG emissions, other environmental impacts, production capacity constraints etc.
A logistics decision support tool to help evaluate alternative feedstock supply chain configurations.
Contract design research aimed at helping selection of appropriate governance/institutional mechanisms to coordinate supply, these may range from markets to hierarchical mechanisms such as contracts, alliances, franchising, co-operatives or vertical integration.
A temporal dynamic agent based simulation modeling tool that can help predict the evolution of the harvest shed over time, under alternative market development scenarios.
Project Co-Investigators are Satish Joshi, Scott Loveridge and Brent Ross at MSU/AFRE, Stephen Yanni of Bay Mills Community College ( syanni@bmcc.edu), and Subbu Kumarappan of Ohio State University's Agricultural Technical Institute.
Project News Release:
Project Research Output and Outreach:
Joshi S.V. 2013 "Decision support systems for regional planning and impact assessment of biorefineries", Presentation at the Association for the Advancement of Industrial Crops(AAIC) Annual Conference, Oct 12-16, Washington DC.
Kumarappan S and Joshi S. V. 2012 "Optimal Biomass-harvesting Model for Biobutanol Biorefineries, Presentation at the AAEA Annual Meeting, Aug12-14, Seattle
Prior Related Research: