Zambia Food Security Research Project / INDABA Agricultural Policy Research Institute (IAPRI) [2013
Project Overview
MSU/AFRE through the Zambia Food Security Research Project (FSRP-III), which is an Associate Award under the FS III Cooperative Agreement, receives financial assistance from USAID/Zambia and SIDA/Zambia. This work supports the development of the Indaba Agricultural Policy Research Institute (IAPRI) a new robust, autonomous and sustainable agricultural policy research and outreach institution.
The project also works to build capacity for agricultural policy analysis more broadly in Zambia. It works in a collaborative framework involving the current Agricultural Consultative Forum (ACF), the Ministry of Agriculture and Livestock (MAL), the Central Statistical Office (CSO),the University of Zambia (UNZA),and other selected Zambian organizations.
In addition, MSU will help IAPRI to run a Competitive Grants Fund (CGF) program to nurture local capacity and local dissemination of knowledge to mainstream audiences through commissioning and mentoring local groups to undertake policy analysis and outreach.
The overall mission of the program is to generate and integrate research findings into national, regional, and international policy strategies to promote sustainable agricultural growth as a means to cut hunger and poverty in Zambia.
Implementation Timeline
Implementation: Apr. 2013 - Sept 2016.
Project Information
Experimenting with electronic vouchers for agricultural inputs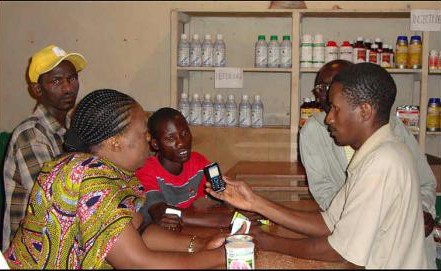 Electronic voucher (phone scratch card which farmers can redeem at selected input dealers)