2018 Judy Moore
Block & Bridle Honoree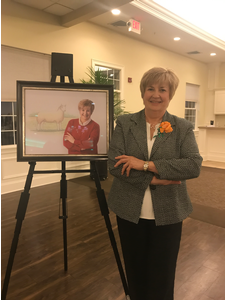 Judy Moore is a renowned sheep enthusiast who has established herself both as a breeder and as a judge. She has judged many state fairs and expositions across the United States, Canada, and Mexico, including two World Sheep Shows.
Judy grew up in central Michigan on a diversified livestock farm. She attended MSU and was on the MSU Livestock Judging Team of Harlan Ritchie's.
Judy and her husband, John, live on a small farm north of Eagle. They are breeders of Cheviot and Hampshire sheep. They met at a county fair while Judy was showing her father's sheep and John was showing Hereford cattle for Walter Reed Farms.
Over the years, Judy has served on several boards. To name a few, American Cheviot Sheep Society, service as President, the Michigan Sheep Producers and MSU Livestock Industry Scholarship Foundation. She has been honored with the Michigan State Fair Distinguished Service Award, Service to the Industry Award by the Michigan Sheep Producers, and Michigan Purebred Sheep Producer of the Year. She has also been a volunteer for the All-American Junior Show and served as Chairperson when it was held in Michigan.
Judy is a retired elementary school teacher and a great supporter of the livestock industry and agriculture.