Resources
The following resources offer evidence-based information to keep you, your family and your community safe.
MSU Extension Resources
We recommend our resources on food safety below:
Food Safety Fact Sheets
Food Safety Hotline Call 877-643-9882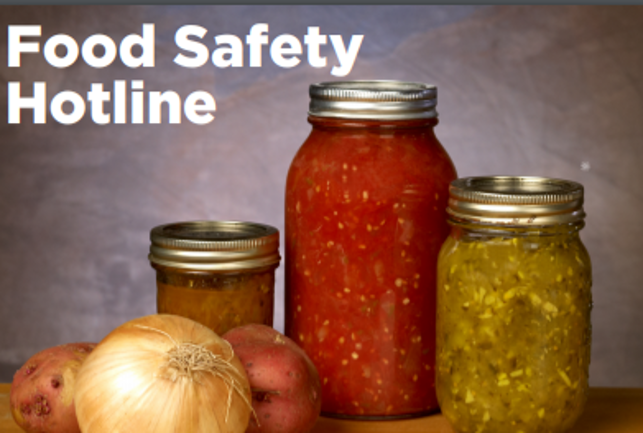 Do you have question about food expiration dates? How long leftovers will last or preserving foods at home? The Michigan State University Extension Food Safety hotline can help answer these types of questions and concerns. Open M-F, 9 a.m.-5 p.m.
Educational Texting Program:
We also offer a texting program that delivers a once weekly food safe message linking you to some great resources, such as videos to play for children, or coloring pages to print, as well as many other relevant topics. To sign up, text "SafeFood" to 797979.
ServSafe Manager Certification Classes:
ServSafe classes are offered by MSU Extension staff around the state of Michigan all year long. Click to visit our website. https://www.canr.msu.edu/servsafe/
Foodsafety.gov- A food safety wonderland. We can't recommend these food safety resources put together by the United States Department of Agriculture enough.
Contact your local Health Department or MDARD inspector for more information on applying for a temporary food license for your food events.
Michigan Temporary Food License Application- click here https://www.michigan.gov/mdard/0,4610,7-125-1569_16958_16977---,00.html
MDARD temporary food license information https://www.michigan.gov/documents/mdard/June_2014_FINAL_Temp_Food_Establishment_License_Application_Instructions_462105_7.pdf
Temporary FoodService Establishment Food Safety and Licensing Guide booklet https://www.slideshare.net/kristinawieghmink/temporary-food-license-information
Cooking for Groups- USDA volunteer's guide to food safety https://www.fsis.usda.gov/wps/wcm/connect/82770ed6-4ec5-4075-9b09-4a24bef24af6/Cooking_for_Groups.pdf?MOD=AJPERES