4-H Day at the Breslin
March 1, 2020 TBD
MSU Campus, Breslin Center, 1 Birch Rd., East Lansing, MI 48824
---
Contact: Jane Love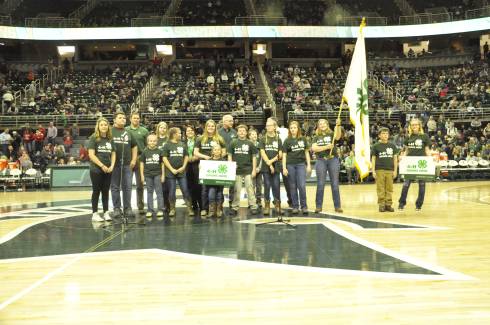 Join us for the 15th annual celebration of MSU Extension 4-H Youth Development at the MSU Women's Basketball game. The Spartans will host the Penn State Nittany Lions on Sunday, March 1, 2020 at the Breslin Center on MSU's campus. Game time is still to be determined (either 12 p.m. or 2 p.m.). Gates open 1.5 hours before tip-off, come early to enjoy all the fun activities going on around the concourse. Tickets are free to 4-H youth and their families, 4-H volunteers and MSU Extension staff and their families.
NEW THIS YEAR: 4-H members and guests will obtain their own tickets online. Use the ticket link to claim as many free tickets as desired. Once at the link, select the number of tickets required and click "add to cart." The tickets will be added to your cart, free of charge. Once done, click "CHECKOUT." Fill in your first and last name, email, and phone number. In the space that says "Let's make it memorable. Name your event:" please type in your county followed by 4-H (ex. Ingham County 4-H). Once you name your event, you will need to fill in your address. When you fill out all the information on the screen completed, click "CONFIRM."
After you click confirm, you are all set! You will receive an email with your tickets. You can either scan your tickets off your phone once you arrive at the game or print them from your email and bring them to the game so they can be scanned at entry.
Link to claim free tickets: https://fevo.me/34iKc1r
If you are an alumni, please make plans to attend our pre-game alumni celebration.
Related Topic Areas
4-H Animal Science, 4-H Arts, 4-H Environmental & Outdoor Education, 4-H Community Service & Service Learning, 4-H Science & Engineering, 4-H Global & Cultural Education, 4-H Leadership, Citizenship & Service, 4-H SPIN Clubs, 4-H Volunteering & Mentoring, 4-H Capacity Building for Youth Development Programs, 4-H Plants, Soils & Gardening, 4-H Youth Mentoring, 4-H Entomology, 4-H Performing Arts, 4-H Rabbits & Cavies, World Food Prize Michigan Youth Institute, 4-H Goat Production & Management, 4-H Sheep Production & Management, National 4-H Congress, Michigan 4-H Youth Conservation Council
Get Directions
Related People