Wild About Conservation
June 13, 2023 - September 27, 2023
Registration Deadline: September 26, 2023 - 12:00AM
Online
---
Contact: Beth Clawson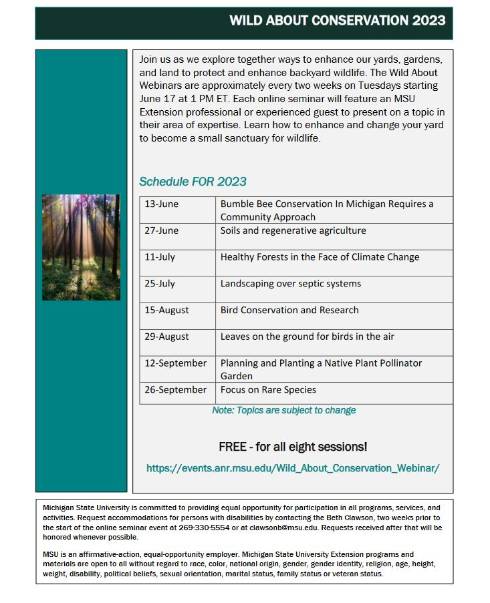 Wild About Conservation
Select Tuesdays
June – September 2023
1 - 2 p.m. ET
This Free online conservation seminar series is for adults and older youth interested in conservation efforts in their yards, or properties. This series can also provide education and information and may be of interest to anyone looking for ways to enhance their property to create a sanctuary for nature out their back door.
Join us as we explore together ways to enhance our yards, gardens, and land to protect and enhance backyard wildlife. The Wild About Conservation will be held approximately every two weeks on Tuesdays starting June 13 at 1 p.m. ET. Each online seminar will feature an MSU Extension professional or experienced guest to present on a topic in their area of expertise. Conservation techniques teaches us how to enhance and change our yards to become a small sanctuary for wildlife.
Free for all 8 sessions! Have to miss a session? No worries, all sessions will be recorded for viewing later.
Registrations are checked up to two hours prior to the live broadcast.
New registrations made after the live broadcast will result in receiving recorded links to all of the the past webinars in the series and are able to participate in upcoming live webinars.
---